Pagosa Springs, CO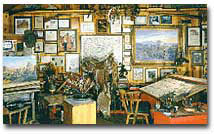 Original paintings, drawings and western memorabilia from the eventful life of famed cartoonist Fred Harman are displayed in 3 galleries. For more than 25 years, a handsome broad-shouldered cowboy named Red Ryder, on his faithful horse Thunder, galloped across the horizon of America's collective imagination. From the first appearance in the "Chicago Sun" on Sunday, November 6, 1938, Red Ryder and Little Beaver were an immediate hit.
This is the home of Fred Harman, artist and cartoonist, originator Red Ryder and Little Beaver, one of the founder's Cowboy Artist's of America and Colorado's outstanding citizen. After 42 years
of commercial and cartooning art, Harman turned his attention to fine western art. In his last 18 years, he was prolific, producing 350 oils, a multitude of pen and ink drawing, as well as numerous
bronzes.
2 miles west of downtown Pagosa Springs on Highway 160
Phone: 970-731-5785
SUMMER Monday-Saturday: 10:30-5:00, Sundays 12:30-4:00.
WINTER Monday-Friday 10:30-4:00, Weekends by appointment.