Pagosa Springs Whitewater Rafting & Tubing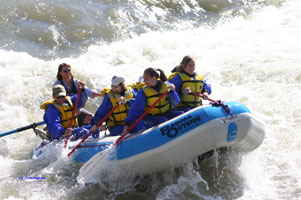 In May and June, when the snow begins to melt, the San Juan River in downtown Pagosa Springs begins to swell and provide excellent whitewater rafting conditions. In addition, "Davey's Wave" which is a large dip in front of the Visitor's Center is a popular area for kayakers to "surf". Other whitewater rafting opportunities exist on the Piedra River.
In the Summer once the river starts to subside, the San Juan River is a wonderful place to take a slow raft or tube ride through town. You can schedule whitewater rafting tours, rent kayaks and tubes at the following local businesses:
Pagosa Outside
Downtown Pagosa Springs, CO 81147
(970)264-4202
view website

Canyon RIO Rafting
Downtown Pagosa Springs, CO 81147
(970)264-3299
Wilderness Journeys/Pagosa Rafting Outfitters, Inc.  
Fairfield Resort Activity Center Pagosa Springs, CO  81147
(970)731-4081
The river is low enough for play. Caution, children should be good swimmers and have floation.