Pagosa Springs Fishing Report – July 2011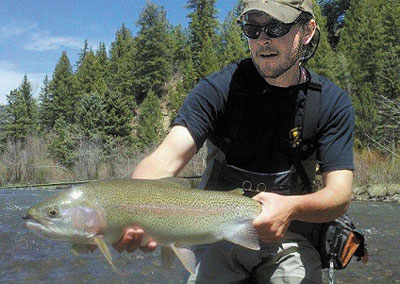 Courtesy of Ski and Bow Rack, Pagosa Springs – Updated 7/28/2011
Williams Reservoir
Streamers are still fishing decent, with some emerger and dry fly action in the evening.  Wooly buggers are recommended as well as small Cronomids and Adam's patterns latter in the day.
Williams Creek
The water is starting to moss up so the fishing has slowed down a little.  Stimulators and Adam's patterns in the evenings and smaller Hare's ears in the day have been doing well.
Williams Creek (Above the Reservoir)
Not much dry fly action but the nymph fishing is hot!  Even fishing in the middle of the riffles has been productive.  Fish small bead head nymphs like Hare's Ears and Princes.
Piedra River (Middle Fork)
Stimulators and small Elk Hair Caddis patterns have done well, along with some Hopper patterns.
Piedra River
Fishes very similar to the Middle Fork (shown above), but be prepared for a lot more people and fishing pressure.  Because of that fish smaller patterns.
San Juan (Pagosa Springs)
Though the fishing is a little pressured through town, lots of big fish (3lb +) have been caught recently.  The East and West forks are fishing better.  Fish SMALL nymphs, Stimulators and Adam are as well.
Pagosa Area Lakes/Echo
Good streamer fishing with occasional surface activity in the evening, usually on small Adam's.  Streamer fishing has proven effective.  Fishing from a boat is recommended.
Navajo River
This river has been outstanding.  Averaging 18 inches per fish, we have been able to catch them on just about anything.  Last week there were 4 days with 23 inch fish or greater.
Ski and Bow Rack Guided Fishing Trips Report
Ask us for more info about our guided trips!
The Snow Angel Ranch
Mostly lakes and ponds here with a small stream, this ranch is awesome.  A much more beginner friendly trip, large fish are caught frequently.