Disc Golf Courses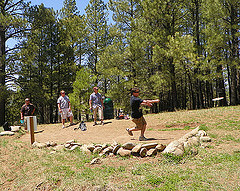 The Pagosa Disc Golf Club (PDGC) was formally created in 2009 when talk of building a disc golf course on Reservoir Hill transitioned from a bar room pipe dream into a reality.
The newly formalized Club was granted permission from the Town of Pagosa Springs to construct a temporary 9 hole disc golf course on Reservoir Hill. Once the baskets were in the ground, disc golfers of all ages and abilities emerged from the woodwork. Local retailers began selling discs and the small sub-culture of disc-golfers began to swell as more and more people got hooked on the game.
The temporary 9 hole course soon became a permanent 18 hole course thanks to Archuleta County 1A funds and much support from the Town.
Participation in PDGC events continues to grow as does a well deserved reputation. Thanks to the beautiful surroundings and location, with its close proximity to town, and the overall layout, the Reservoir Hill course has been called one of the top ten disc golf courses in Colorado and one of the best in the Southwest.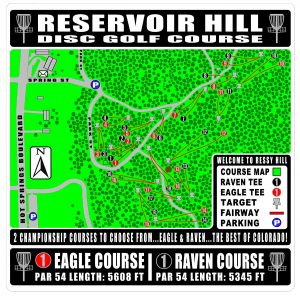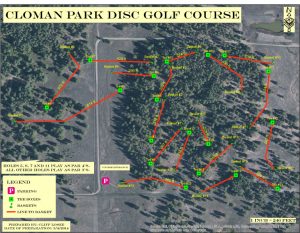 In addition to the Reservoir Hill course, there is a  course nicknamed "Sneak-a-Peak" in Cloman Park, which offers greater distances and general openness.
A third local course of 9 holes is located in Aspen Springs just west of Pagosa Springs.
Whether a long-time local or a tourist visiting for the first time, enjoy your play in Pagosa and return to our courses many times to take advantage of their beauty and challenge!  To stay in the loop on current Club activities or see just how the Pagosa Disc Golf Club can change your life, visit us at http://pagosadiscgolfclub.com/index.html , find us on facebook.com/PagosaDiscGolfClub  or send us an email pagosadiscgolfclub@gmail.com.