Nordic Club Trail Groomers Continues to get New Funding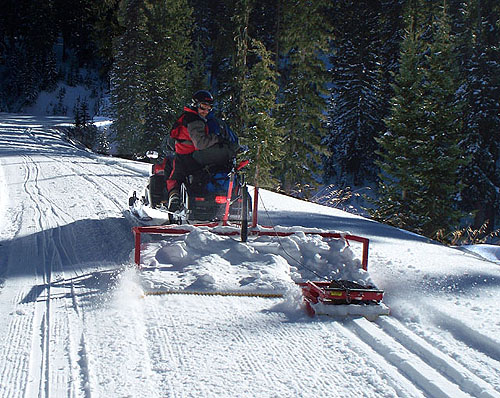 The Pagosa Nordic Club has made amazing progress in a few seasons obtaining grants, donations and new trail grooming equipment. Recently the club announced a successful drive for a "matching funds" donation allowing the purchase of more machinery. The club, with help from the forest service, now keeps several trails groomed for local and visiting skiers. 
We have raised $3,000 for additional Utility Snow machines for grooming.
Pagosa Nordic Club members, Pam and Gary Hopkins
will match the $3,000 giving us $6,000 for equipment investments.
A BIG Thank You to the following who donated to the cause:
Bryan Sickbert               
Gwen and Dan Bartley   
Michael and Nancy Ray   
Kenny Daniels               
Susanne Russell           
Juli Moorelock               
Micheal and Mily Whitting   
Emily Deitz and Robbie Johnson   
Pete and Diane Gutman   
Al & Stephanie Bouchier   
The Kelly Law Firm           
John Duval                    
Tom & Ming Steen           
Peter Marshall               
Betsey Cotton               
John and Jana Ranson   
Beverly Warburton       
Muriel Eason                   
Jennifer Rickenburg       
Anne Hickman               
Guiseppe & Maureen Margiotta   
Jan and Jeff Hester
An important part of grooming is meeting, greeting and passing out club maps and information to folks along the trail.