June Volunteer Trail Work Projects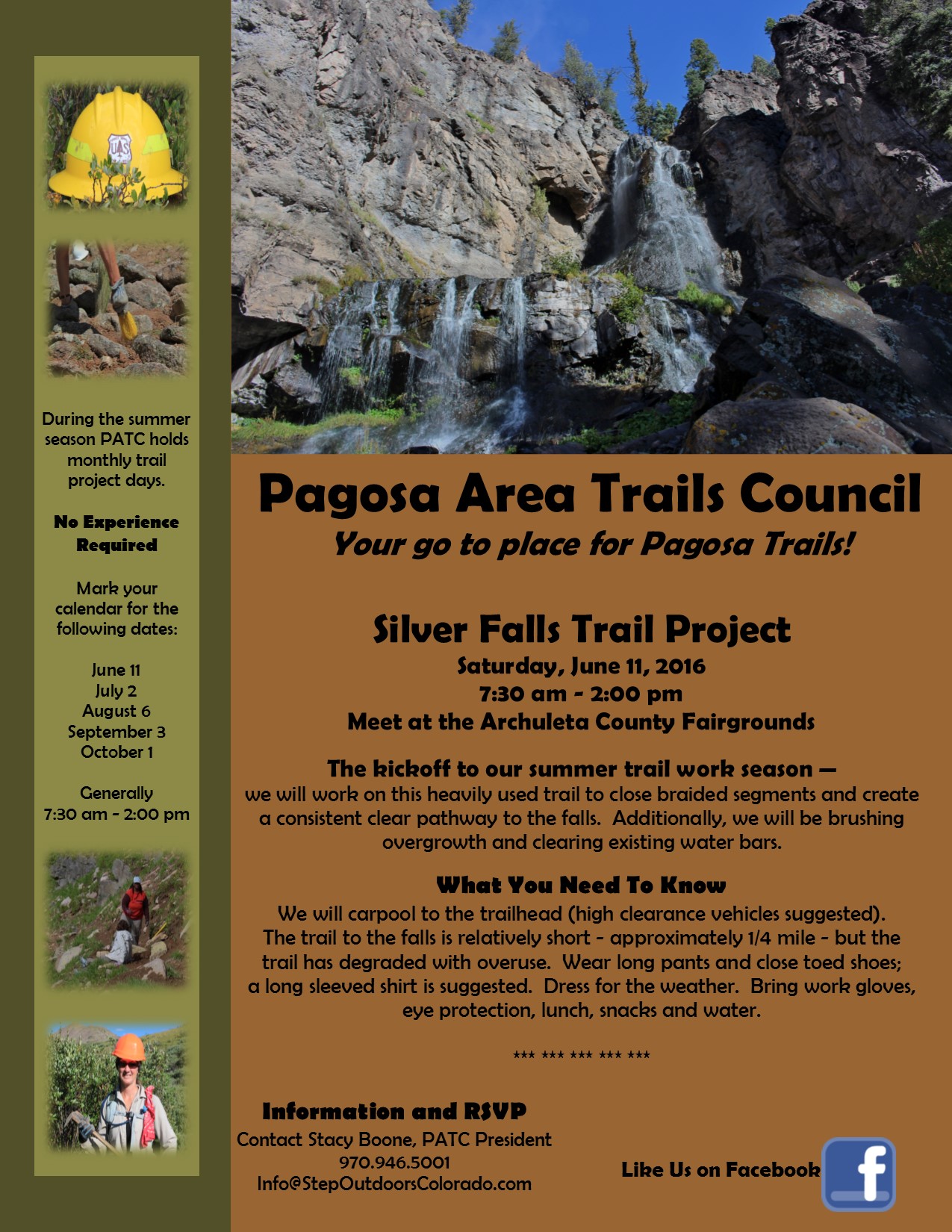 Visit the new Pagosa Area Trail Council website – Click Here
For years you have been enjoying hiking on pathways created by others. Have you ever thought about giving a little time back to the trail system you so very much enjoy using? Join one of the Pagosa Area Trails Council (PATC) trail projects. PATC was created in 1997 through the efforts of John Applegate and with approximately 687 miles of trails to maintain in the Pagosa Ranger District, PATC functions as one of the coordinating organizations to assist with the care and maintenance of these trails. And, we could use your help!
Trail work is for nearly everyone. Most projects have an array of needs, from lopping to digging to building to sawing. There is a job for every volunteer – we promise.
This month we have a couple of trail work projects that could use hands like yours.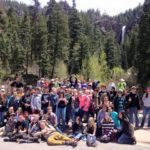 June 2 – 8th Grade Service Project
Time: 0900-1400
Location: Meet at Turkey Springs Road between Newt Jack Road and West Monument Road near the cattle guard
Project Description: The duties for the adults will be to assist with trail building but also being "eyes" on the ground for safety. It is important that there is no horse play that involves kids and tools. This project is to be safe and enjoyable for everyone. Please wear sturdy hiking boots and gloves. If you have your own trail tool bring it with you.
Contact: Tyler Albers at talbers@fs.fed.us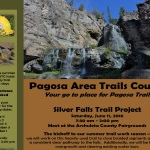 June 11 – Silver Falls Trail Project
Time: 0730-1400
Location: Meet at the Archuleta County Fairgrounds – we will carpool to the trailhead, 4-wheel drive vehicles recommended
Project Description: The kickoff to our summer trail work season — we will work on this heavily used trail to close braided segments and create a consistent clear pathway to the falls. Additionally, we will be brushing overgrowth and clearing existing water bars. The trail to the falls is relatively short – approximately 1/4 mile – but the trail has degraded with overuse. Wear long pants and close toed shoes; a long sleeved shirt is suggested. Dress for the weather. Bring work gloves, eye protection, lunch, snacks and water.
Contact: Stacy Boone at info@stepoutdoorscolorado.com