Bass Action On Pagosa Lake Dock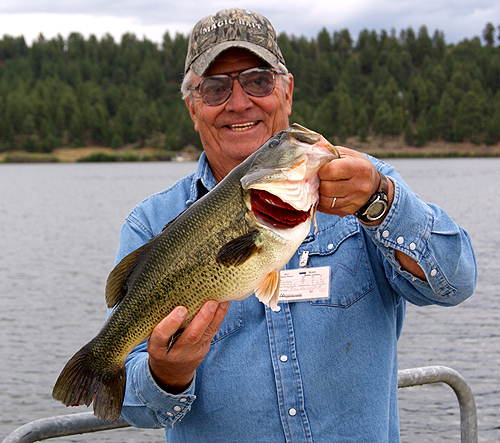 John Gosselink (John from Texas on the docks) and George Saltsman spend their summers in Pagosa Springs. Both fish most days and John decided in August when the water temperature was so hot to start Bass fishing.
Most visitors to Pagosa are interested in catching the beautiful Rainbow Trout that are stocked in the lakes and rivers in the area and not very interested in Bass. John has fished all his life for Bass in Texas and tried some of his old techniques. He started using a Strike King, 3/8oz Sexy Shad, shallow running crank bait and low and behold started catching some huge bass to seven pounds. Picture attached. John's friend Jeff Manafo, a permanent resident of Pagosa (known as the "Master Netter"), helped by netting both of the large fish John caught this year.
Jeff, John and George were all fishing together on Tuesday, 09/13/2011 over on Pagosa Lake when George decided to try one of John's Strike King lures. After several casts, George had a nice Bass take his bait. The Bass headed straight for the dock, got tangled up in the anchor chain and broke the line.
Jeff didn't give up at that moment and was looking down at the chain and saw the lure. After further investigation, he discovered the fish was still hooked on the lure. He immediately jumped into action, reached down to try and get the fish, yelled for the net, tried to get the hook loose from the chain and finally with all three fishermen standing on their heads trying to catch the fish, Jeff got the fish in the net and retrieved the fish and the lure.