2010 Elk Hunting Guide in Pagosa Springs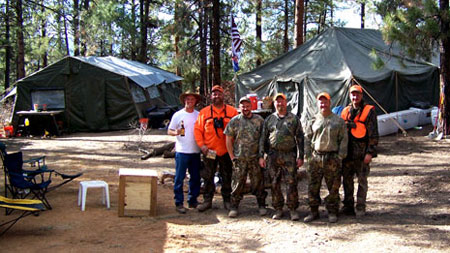 Celebrating a 27 Years of Hunter Hospitality in Pagosa Country. 
Listen to the Big Game Hunter's Radio Show at 12:00 noon Thursday and Friday on KWUF / KWUF.com.
The "Best Camp Contest" winners for the Third Season.
Prizes for all of our contest are provided by The Springs Resort, KWUF Radio, Pagosa.com
and the sportsman muscial groups
Bananas at Large and The Da Yoopers.
A great bunch of guys having way too much fun and doing it all responsibly.
The "Best Camp Cook Contest" winner for the Third Season. Shrimp and brisket for lunch, what suffering!
Norm, in blue, hands a Springs Resort pass to a hunter. His friends nominated him for "The Dirtiest Hunter in the San Juan Contest." He won!!!
A touching moment at the Buck Stop. A blind lady and her husband came in because she wanted to "know" an elk. She was extremely excited and overjoyed at this experience.
The way it should be, a father and son team come out of the forest. Note the son's elk rack.
The entire camp helped bring the elk down.
Local senior Gladys Marion and her nice buck.
Local Dan Keuning, sons and game.
Keyahgrande
Keyahgrande
Hardy Ha Ha, you missed me this year! Editors note; There is always next year.