If you love waterfalls, Pagosa Springs and the surrounding areas have a lot to offer.  There are many beautiful and scenic waterfalls in the area. Here we list just a few to "wet" your appetite.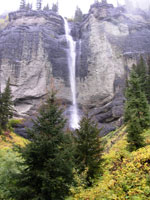 Fourmile Falls: Spilling hundreds of feet over a precipice of dark volcanic rock, Fourmile Falls makes an interesting destination in the Weminuche Wilderness north of Pagosa Springs. Accessed by a short and easy hike, this spectacular feature of the rugged San Juan Mountains can be enjoyed by hikers of nearly all ages and abilities. The hike is approximately three miles each way. A relatively easy hike, the Falls are among the highest in this region. Drive out of Pagosa Springs north on Fourmile Road; take the right turn just past Pagosa Peak Ranch, for about 14 miles to its end.
Piedra Falls: between 15 and 30 minutes each way. The Falls are impressive, thundering off a cliff into a v-shaped canyon of huge boulders. To get there, drive north on Piedra Road to Sportsman's Supply, turn onto the road behind it, follow this road for two miles and take the East Fork Road (first road to the right) to its end. Walk up river to the headgate where the trailhead begins.
Treasure Falls: At the western base of Wolf Creek Pass, can be viewed from US Highway 160 northeast of Pagosa Springs. A short trail leads to the falls.