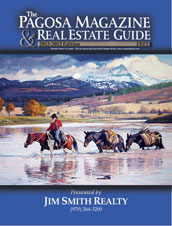 Thank you for your interest in Pagosa Springs Real Estate! Pagosa.com is proud to work with Jim Smith Realty to provide the The Pagosa Magazine and Real Estate Guide, the area's premier real estate resource.
Starting out more than 22 long years ago, Jim Smith had a vision of a magazine that would reach the visitors to Pagosa Springs, telling them about the area and what it had to offer and making it easy to explore the area's real estate opportunities. The Pagosa Magazine and Real Estate Guide is a 60 plus page, Full Color, Glossy, tabloid size magazine filled with interesting articles, maps, hundreds of Real Estate Listings and gorgeous photography. This publication contains a wide variety of information of interest to our visitors, real estate investors, and those wishing to relocate to the Pagosa Area.
Contact us for advertising information at 970-264-3200 or email the editor at guide@jimsmithrealty.net.
We Call it "The Guide", but it's much more than a Real Estate Resource! Find a Builder, Explore the Area and more with the Pagosa Magazine and Real Estate Guide!
To receive the guide, please fill in all information below.
* indicates required field