Wolf Creek Ski Area Cooks Up Its 75th Season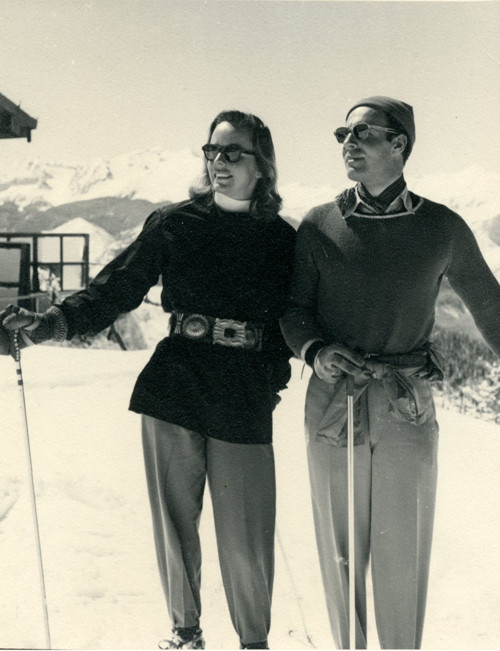 Reprinted from the 2014 Pagosa Springs Dining Guide with Permission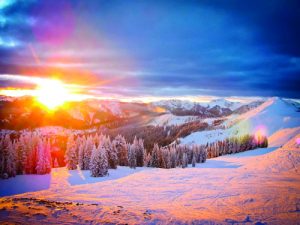 In the late thirties, ski enthusiasts from the San Luis Valley got together to enjoy the snow that fell in abundance on top of Wolf Creek Pass. That was the humble beginning of what we know today as Wolf Creek Ski Area. 75 years and countless improvements later, skiers still delight with the epic powder and amenities available on the mountain.
In addition to their 75th anniversary, Kingsbury "Pitch" Pitcher's induction into the Colorado Ski and Snowboard Hall of Fame is cause to celebrate. Pitch was born in 1919 and developed a passion for skiing at a young age. He attended Stanford University and was an active member of their ski team. After graduating and working in Sun Valley as a ski instructor, he enlisted in the army air force and served throughout World Word II. Later, he and his family acquired property in Aspen, where he joined Friedl Pfeiffer and Fred Iselin as a ski instructor. He became a ski school supervisor and was one of the first certified instructors in the Rocky Mountain Ski Instructors Association. In 1957, Pitcher was informally commissioned to look into a location for a major new ski resort in Colorado and was involved in the planning of Snowmass from 1958 to 1960. He acquired an interest in Buttermilk Mountain, which was later sold to Aspen Skiing Company, and he was involved in the planning and development of Arrowhead (now connected to Beaver Creek) and potential ski properties near Telluride. Pitch was also instrumental in the development of Sierra Blanca, now Ski Apache, near Ruidoso, N.M. Sierra Blanca was the first ski area in the country to install a four-passenger mono-cable gondola, which greatly aided it in its success. Pitcher then purchased a failing Santa Fe Ski Basin in 1964, turned it into a success, and sold it in 1984, in order to concentrate on his new project: Wolf Creek Ski Area. This iconic Colorado resort is still owned by the Pitcher family and operated today by one of Pitcher's six children, Davey. Pitch, who celebrated his 95th birthday in July and is a New Mexico Ski Hall of Famer, was inducted into the Colorado Ski and Snowboard Hall of Fame on October 17th, 2014. He is being honoredfor his instrumental role in pioneering the ski industry in Colorado and the United States. Pitch is now officially retired from the ski industry, though he makes appearances at Wolf Creek Ski Area during the winter months.
Every year Wolf Creek Ski Area strives to enhance the terrain, amenities, and overall skiing experience: 2014-2015 is no exception. The Elma Lift, named after the Pitcher Family's strong and faithful Black Labrador, will add more variety and character to the current lift system.  Although this is one of Wolf  Creek's smaller lifts, it will provide access to an area of the mountain that is underutilized and establish an alternate route back to the base area from the Alberta Lift. A new Race Hutch comes to life this season, with an observation area for the crew and storage area for the race equipment, banner, poles and safety fencing. The Wolf Creek Fun Race Series runs throughout the winter, and is an extremely popular program for guests of all ages and abilities. The Wolf Creek Ski School is also introducing a new pilot snowboard program called the Wolf Riders for children age five to eight that teaches the basics and beyond of snowboarding.  Kids will meet in the Wolf Pup Building designed specifically for that age group which offers easy access to the Magic Carpet and Nova Lift. Additionally, Wolf Creek offers free paved parking and free parking shuttles. Complimentary use of the Nordic track that the ski area maintains will continue to afford X-Country skiers miles of fun for a range of abilities.
Wolf Creek does an excellent job of providing quality food service at the many eateries on the mountain. Specialties include: Southwestern-style green chile stew, red chili, local organic grilled burgers, gourmet salad bar, homemade pizza, hot daily lunch specials, a number of delicious desserts and refreshing après-ski drinks. Ask any skier/snowboarder which lodge is their favorite and they will let you know which one and why. Some can't call it a ski day without Wolf Creek Lodge's steaming hot cup of green chile stew, with its moist bites of chicken, roasted green chiles, and chunky fresh vegetables. Others go for the Prospector Grill and its classic, traditional Frito Pie, with homemade red chili, melted cheese, and crunchy Fritos. Kids and adults love the pizza at the Raven's Nest, located at the top of the Raven Lift. Whether you choose classic cheese and pepperoni or supreme with all the toppings, it's pizza with an unbeatable view. For those skiing Alberta Lift, a fresh grilled cheeseburger can be enjoyed at the base of the lift- no need to head back to the base area to refuel. No matter which lodge you choose, the quality is consistent and the prices are reasonable.
Nourish yourself with epic powder and homemade cuisine at Wolf Creek Ski Area this season. For more info visit wolfcreekski.com.