A View from the Lifts at WCSA – A Photo Essay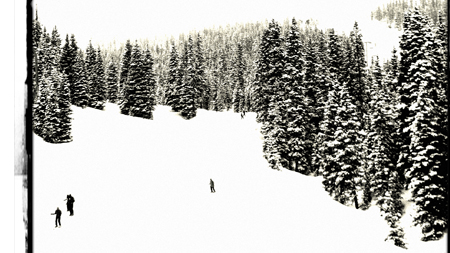 By Jacque Aragon
While snowboarding last weekend, I was taken back by the glorious trees and terrain that surround WCSA.
Wolf Creek's seven lifts service incredibly beautiful terrain, over 1,600 acres.
The Magic Carpet is a moving conveyor lift for the Wolf Pup Program.
The Nova Lift (Double Chair) services beginner terrain for children and new skiers.
The new Raven Chairlift (Detachable Quad) services primarily beginner and intermediate terrain.
The Bonanza and Treasure (Triple Chairlifts) service intermediate and expert slopes.
The Alberta Chairlift (Quad) serves the Water Fall Area: This unique area is beautiful and adventuresome, full of incredible glades and changing terrain. Predominately tree skiing and boarding, these 1,000 acres have a few groomed trails for intermediates' interests and enjoyment.
D. Boyce (High Speed Poma Surface Lift) operates occationally as a memento to times past. This lift services intermediate and expert terrain.
WHILE USING LIFTS
Obey all posted instructions.
Ask for assistance if you are unfamiliar with the lifts.
Slow down before approaching the entrance to a lift.
Move quickly away from unloading areas.
More info about the trails and lifts at WCSA 
PARKING AND PARKING SHUTTLES
Parking and the parking shuttles from the parking lot are free!
There are several lots with ample parking for everyone. Shuttles will pick up skiers by their vehicles when parking in the lower lots.
4X4 Lot: Access is to the right of the Entrance, guests should be driving a 4X4 vehicle.
Base Camp Lot is for disabled guests. Located outside the First Aid Room (FAR), the lower level of Base Camp, this building has elevator access.
Upper Parking Lot: Located directly below the Ticket Office, Prospector Grill and the Sports Center.
Lower and Alberta Parking Lots: Located below the Upper Lots and serviced by shuttle buses whenever vehicles are parked there. Stay left when coming in the Entrance.
Upper and Lower Tranquility Lot: Accessed to the far left as you come in the Entrance. Go through red gate. Shuttle service runs frequently.
Snow shed/Overflow Lot: A short distance East of the ski area on US Hwy 160. Used over holidays and busy periods. Shuttle service runs frequently.