Soaring Above the San Juans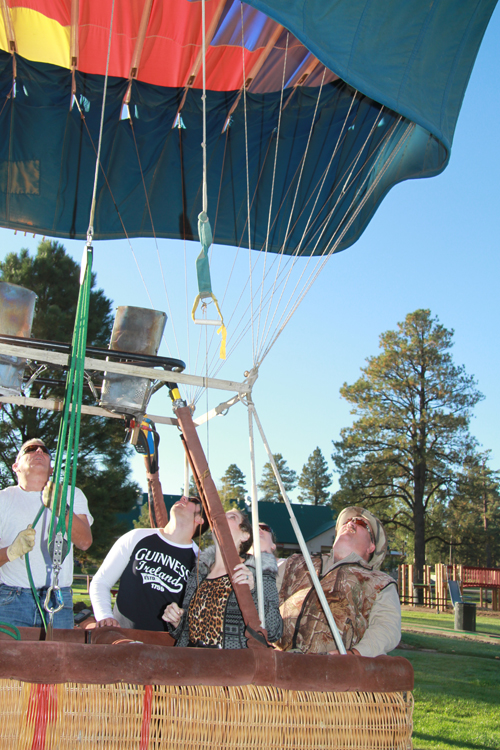 Article from the 2014 Winter/Spring issue of the Pagosa Springs Dining Guide
Mike Marchand didn't plan on becoming a hot air balloon pilot. He found himself in Pagosa Springs for the same reason many other people do- to ski powder. It was the mid 80's and Mike decided to get his pilot's license, mostly due to his interest in flying airplanes and helicopters. Next thing he knew, there was a ballooning business in town that needed a pilot and he was in the right place at the right time.
Rocky Mountain Balloon Adventures, LLC. started with a two passenger balloon and has grown along with Fairfield Resorts (now Wyndham Resorts) to accommodate its clients as well as other visitors to Pagosa Springs.The fleet currently consists of two ten passenger balloons, one six passenger balloon, and still has it's original two man vessel. It is a year round operation that is only limited by the snow depth in town. Flights last thirty minutes or one hour, with the complete excursion lasting three to three and a half hours. It is a spectacular opportunity for photography and taking in the natural beauty of Pagosa Springs.
Mike has been piloting balloons now for twenty eight years. He has flown in most of the western states, as well as Mexico and Costa Rica. He has married people on his balloon many times, and has helped people cross this off their "bucket list." His oldest passenger to date was ninety eight, and he has flown with tiny babies- although he doesn't recommend it for young children because the loud noises tend to frighten them. "Other than the noise, flying is a serene experience. There is nothing to be afraid of. The wind picks our course and we drift along with it. There are no sudden moves or bumps. The media likes to focus on ballooning tragedies but those are statistically rare and sensationalized. Some people do like to spice up the ride so for them we offer the "splash and dash," where we touch down briefly in the lake. Of course that's not for everyone!"
After all of these years Mike still loves flying and sharing his experience with others, particularly in the fall when the leaves are changing colors and the weather is cooler. He enjoys meeting people from all over the country, and comments that he frequently receives thank you cards from happy customers along with photos from their flights.
At the end of the flight, participants assist with deflating and packing up the balloon and recite the balloonist's prayer, which originated two hundred years ago, along with a champagne toast.
"The winds have welcomed you with softness. The sun has blessed you with his warm hands. You have flown so high and so well, that God has joined you in laughter. And set you gently back into the loving arms of Mother Earth."
Join Mike and his crew at Rocky Mountain Balloon Adventures LLC. and "break the Earthly bonds of gravity." Visit pagosaviews.com or call 970.946.2549 to book your flying adventure.