Soak at our 3 Colorado Hot Springs Locations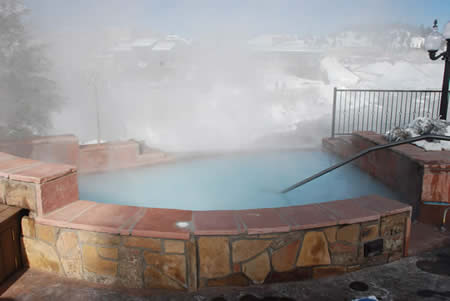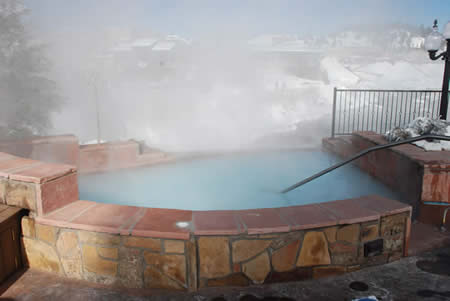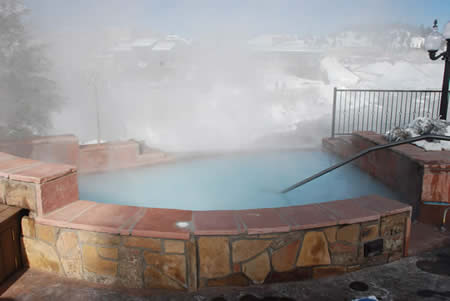 Known for some of the best hot springs facilities in the nation, Pagosa Springs boasts 3 unique hot springs facilities that can soothe away your stress and rejuvinate your soul after a full day of playing in the snow!
The Springs Resort & Spa, (800) 225-0934, view website
The Springs Resort and Spa features 23 therapeutic hot springs mineral pools, a 79 room hotel and a full-service day spa along the banks of the San Juan River. The hot springs pools are terraced into the landscape along the river and each boasts it's own unique experience through their individual size, design, views and temperature.
Hotel guests of the resort enjoy 24-hour unlimited access to the soaking pools. Non-resort guests can pay a daily pass fee to enjoy the benefits of the hot springs. The full-service day spa offers a complete and comprehensive line of skin, hair and body treatments which are perfect compliments to the therapeutic properties of the hot mineral waters.
The resort has just opened a new 29-room luxury suites hotel. The suites are luxuriously appointed and range in size from one-bedroom suites up to a 1000 square foot three-bedroom suite. The "green-built" building is constructed to LEED (Leadership in Energy and Environmental Design) Gold standards. It's the first hotel in Colorado built to the LEED standards and one of only five in the country built to LEED Gold standards. Like the rest of the property, the new hotel is heated naturally using the hot geo-thermal water from the great hot spring onsite. For more information, visit www.pagosahotsprings.com.
Healing Waters Resort & Spa, (800)832-5523, view website 
Enjoy the charming setting of Healing Waters Resort and Spa, reminiscent of a simpler time.  For Lodging, the Spa Motel offers a range of reasonably priced accommodations to fit almost any budget.  From our RV Park (7 sites), equipped with full hookups and cable TV, to our basic rooms and suites complete with kitchenette facilities, you'll find a clean and comfortable haven.  Their downtown location puts you within walking distance of shops, restaurants, and recreational activities.  A soothing and relaxing part of our Motel is our large hot mineral water pool. Whether you want to swim, play or simply lounge, you'll enjoy our large swimming pool, heated by natural mineral waters. We also have an outdoor hot tub, and our European style indoor hot bath facilities.  These are segregated men and women with steam room and benches to rest on for a quiet relaxation time.  We also feature a variety of massage and body treatments.  For the ultimate in relaxation, come stay with us, treat yourself to a massage, and soak the rest of the day away!
Overlook Mineral Springs Spa, 970-264-4040 
Overlook Mineral Springs Spa is Pagosa's newest hot springs facility.  Featuring rooftop tubs overlooking the San Juan mountains and river, you'll enjoy their affordably-priced $10.00 Hot Mineral Baths in a Victorian style. The Overlook also offers complete massage services, and every massage includes a bath pass! You'll find a private tub room available by the hour and we feature steam and body spray showers in our locker rooms. Located in the heart of historic downtown Pagosa Springs. 
Scroll down for more info and photos.
This 1874 National Archive photo shows The Great Pagosa Hot Spring before any development.
Certainly different now and more colorful!!!
The big mineral mound, shown below, began as this stone fountain in the 1950's. There was a trough on the first level for people to dip a cup in for drinking the water. Caution, the mineral water can be a strong laxative.
This is an old postcard showing the mound developing but not as large as today. The postcard is dated "after 1963" and captioned: "Colorful Mineral Deposits are natural scenic attractions in Pagosa Springs. Deposits are formed from Mineral Springs whose healing properties were known and used by Indian tribes long before any white civilization."
The current mound. The building in the background is the same as shown in the first photo above, the exact perspective cannot be photographed because of landscaping. 
Healing Hot Springs Mineral Pool & Hot TubsAhh, let your worries wash away as you slip into our warm, healing waters…

From eliminating stress to health benefits we all can use, our mineral waters are something to be enjoyed with a sigh of relief.

Our hotel guests enjoy complimentary use of our mineral water swimming pool, outdoor soaking tub and indoor hot baths.

Hours: 8:00 a.m. to 10:00 p.m.

NO LIFEGUARD ON DUTY
Youths 16 and under must be accompanied by an adult
Jeff and Addie Greer revive Pagosa's past of one hundred years ago with hot springs pools on main and a touch of the Victorian era.
Several pools are located on the first floor along with spotlessly clean changing / shower rooms and a "private" pool with its own door.
Climb to the roof and the Overlook Pools allows views of mountains to the east and the entire downtown area.
All facilities have been built nice, clean and inviting