Snowmobiling in Pagosa Springs Colorado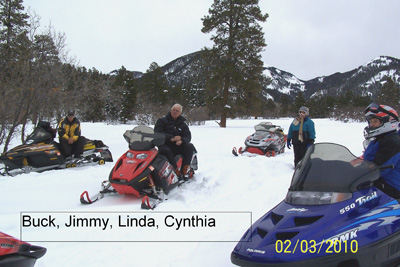 In the wintertime, Pagosa draws snowmobilers to the best snow in Colorado. With acres and acres of pristine wilderness, an enjoyable and sometimes necessary mode of transportation is sitting astride a snowmobile. And for some of our back-country residents who are sometimes snowed in during the wintertime, the snowmobile becomes a lifeline to civilization. Many visitors also enjoy viewing the fabulous scenery that isn't accessible by car.
Coming to Pagosa Springs and want to try snowmobiling? No problem! Pagosa Springs Colorado features several snowmobile tour companies that can take visitors and residents alike on half-day, full-day and private outings into the panoramic wilderness that surrounds us!
View Snowmobile Tour Companies
The Wolf Creek Trailblazers club does a great job of grooming trails for snowmobile owners in the Pagosa Springs area. View trails information.
Third Generation Outfitters | (970) 219-7523
Wolf Creek Snowmobile Tours | (970) 731-4141