Far Reaching Meadows – Part 4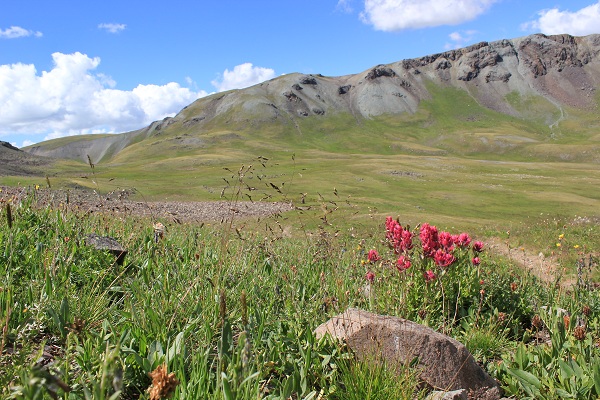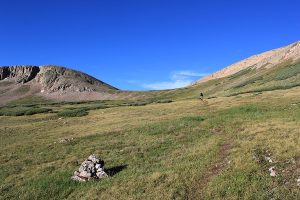 A string of carins marked a direction through miles of up and down undulations above a gulch that stretched far and wide. And then over, under and around to another spectacular gulch with is associated saddles and shoulders and crossings. A herd of elk could be seen resting on a small knob to the west and as the sun grew higher on the horizon one by one baby and momma stood and began grazing on the green spikes that were damp from the overnight showers. Slowly, the herd moved out of sight, first into the shadows and then over a ridge edge where we could not see.
All morning we bumped along with views that stared for miles upon miles. Rocky prominents added greater depth to the landscape that changed with every bend in the trail. Generally silent, nary a sound could be heard with the exception of our own labored breathing and the misplaced kicked of a stone that would tumble for great distances down slopes that hid small rivulets in a green lush garden far out of touch.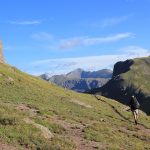 7,344-feet of elevation gain in 33-miles. Darn remarkable! The terrain has been a blend of rugged, remote and stellar confirmation of Mother Nature and her dutiful attention to creating scenery to be appreciated and revered.
Day 3, there is so much to learn from day three. First, and of course most important, is that I made a conscious very deliberate decision to not bring chocolate on this backpack trip. Why? I'm not sure and though I'm not to the over-anxious feeling of wanting to hurt someone I have decided that not having chocolate will not be a part of any future backpacking trip. Really, what is the point?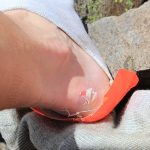 And, then, there is another lesson. One that is admittedly difficult to admit. Honestly, we've got lots of backpacking miles so making such a rookie mistake is inexcusable. But, we both had new boots … a brand we've worn repeatedly over the years with no difficulties related to put on and go. Sadly, there has been a small change in the fit of the boots resulting in the friction rub of discomfort and broken skin. This leads to the … did you pack your first aid kit question? We did – thankfully!
Because of blisters each break is relished to the last. Temperatures are warm and gentle breezes give each singly unclothed toe a refreshing energy before its re-entombment into synthetic socks and confining boots. Despite all, each toe is well behaved and non-complaining simply requesting an occasional dip into cool waters for rejuvenation.
Nearly 100-miles remain when we cross Stony Pass and with more than 16,000-feet of total elevation gain there is no easy way in or out to this section of the Weminuche Wilderness. With rolling hills that build on top of one another, gullies and remnants of an old stock driveway, attention to the scenery requires an equal amount of devotion to the route and direction of travel.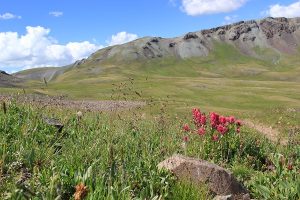 So much history is lost in these Colorado mountains. But an observant eye will see dustings of the past that require a moment's investigation and study. Thusfar we'd found several pieces of arrowhead and after fingering the cut edges would lay them back where found and spend the next mile or so talking about the why and how of their discovery. Being in the midst of Ute Indian territory I only imagine that generations ago their secret hiding places provided a life of abundance in a land that can be harsh and unforgiving.
Stony Pass was a toll road in 1872 but a steep and rocky endeavor when crossing the divide. It is said that once a mule lost its footing, it wouldn't stop until it hit Cunningham Creek 2,000-feet below. (CDT Guidebook) One look around and the landscape bears that endearing statement.
With these stories in mind we followed easily discernible trail through rocks, tundra, the training grounds for how to be a good marmot, and the circus playground for chipmunks who would stand on their hind feet to watch passerby's. Not so distant, thousands of feet of rock jut into the thin air and begin to fill the void to the west. The Grenadier Range is revealing its hidden treasures with a self-assurance that only big mountains can portray.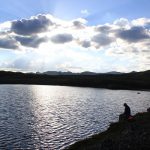 Lumbering along a sinuous plateau the last of the afternoon is spent simply seeing and pondering. Ponds and tarns dot the landscape becoming more numerous. At a series of multiple ponds we stop and set camp in the bowl of a dried pond. Gurgling overhead are the rumblings of a storm that will come after nightfall but plenty of time for soaking and watching the sunset.
The leeches are a surprise … one I hadn't considered. An alternative medicine to swollen and blistered feet, they were small and easily wiped away with the brush of a bandana! Growing closer is the lightning as dinner is finished – a blend of heavy duty carbohydrates with flecks of mushrooms and a rich sour cream sauce. Tidying camp from the clothes having been strewn about to freshen, the air grows damp. Sufficient reason to crawl into bed.
ABOUT US AND OUR ROUTE:
Together, Boone and I have over 30,000-miles of backpacking experience. We made a conscious decision to hike over 20-miles per day to reach our goal for this particular hike. We would not recommend you do the same but instead that you take the time to enjoy the grandeur of the divide.Our route followed the Colorado Trail and Continental Divide Trail beginning at Spring Creek Pass and coincided with the guidebooks related to both trails.
If you would like more specific information pertaining to the planning details of this particular hike please contact Stacy at info@stepoutdoorscolorado.com.