You Can Do That – In Pagosa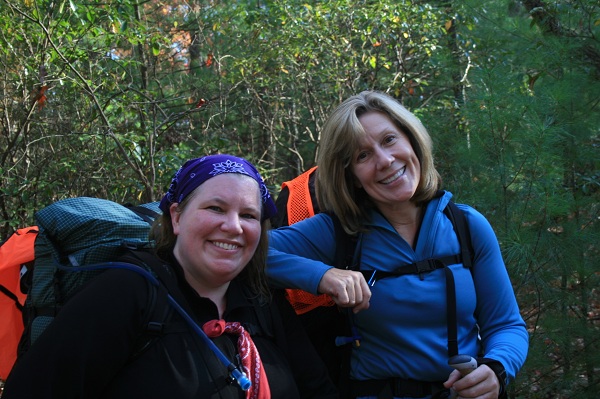 Class took me out of town yesterday.  With deadlines, proposals, descriptions, research and emails sometimes I don't feel like there is ample time to read for enjoyment.  Which means I like the opportunity to drive for the quiet and this week began listening to the first few chapters of Christopher McDougall's, Born to Run.
The weather is typical March calendar weather – snowstorm today, 60-degrees tomorrow.  We've not had as much snow as years past so the piles yards and yards high of two years ago are not this year's melting concern.  Mud is prevalent with the warmer temperatures that simply scream, "GO HIKING!"  Let's be clear, there is still A LOT of snow out there!!  Instead, I dream of high meadows, the budding prairie smoke and purple iris, spritely baby rabbits darting between low bushes and the "I've come home" smell of spruce and fir.
As my clients are preparing themselves for spring and summer backpacking adventures, and as I reveille in the idea of hiking for weeks and weeks at a time, it is a line in McDougall's book that when read aloud makes me consider they why and how.  Honestly, I don't remember exactly the quote, so I paraphrase … the reason you can do it is because no one has told you you could not.  Wow!  That is a powerful concept!
I can't remember the last time I was told, "You cannot do that."  Well, that isn't true, earlier in the winter my husband told me I couldn't wear my buff up and over my head the way I was
when running – sort of has the ET effect coupled with a non-coordinated legs and arms going all directions running style.  I still do it!  As a child I don't remember being told that I  couldn't do something.  Even when I began hiking long distances over a decade ago nobody said, "You cannot do that."
There is something to be believed for modifying a negative phrase to a positive support, you can do that!  How empowering, how rewarding, how enabling those four words are!
A child learns to trust their own judgment, to properly relate their displeasure, to challenge their body and mind with positive reinforcement and encouragement.  When options rather  than "no's" are the boundaries for consideration a child grows into a respectful and analytical thinker.
An adult has to battle through their perceived awareness and understanding of a challenge – and oftentimes the acuity is inaccurate or construed.  Between the bears, the crazy murderers, your too fat, you are going to get lost and starve to death, where are you going to carry your firearm and the obvious it is too hard and impossible, I give kudos to those who push through their own and the well-meaning concerns of family and friends to learn for themselves the boundaries of their consideration.
Why can't a woman (man or child) backpack for three nights with friends in the Colorado mountains?  For too long, too many have been told they can't.  I don't agree … I believe, "You can do that!"
Photos are from 2011 summer backpacking adventures.
Step Outdoors wants you to go outside and we lead individually inspired one foot in front of the other adventure pursuits to get you there.  In the summer, we will tailor a first time  overnight backpack or a more challenging multi-day hiking adventure just for you.  In the winter, we offer snowshoe hikes appropriate for beginners and for those with a tad more experience.  Perfect for mothers and daughters, couples, families, co-workers or a group of friends, we provide a 100% guarantee of fun.
Check out our blog at http://stepoutdoorscolorado.com/blog/.  Or send us an email at info@stepoutdoorscolorado.com.