Pagosa Springs Kayaking on the San Juan River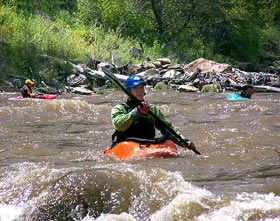 John Steinert | Juan's Mountain Sports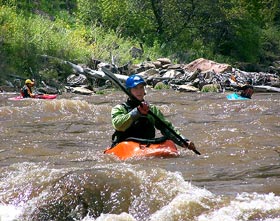 Over the past few years, Pagosa Springs has continually worked on the San Juan River Project that creates new rapids in the river. The rocks and holes really changed the way the river flows through town. This past spring there was a second project done in the area of the Chamber of Commerce and the hot spring across from Main Street. This new project was specifically done to improve kayaking.
Because of all of this work, what was once a fairly placid float is now a challenging white-water experience. The changes have renewed interest in floating the river. But, what is the best way to run the newly created rapids? For many experienced boaters, the answer will be the hard-shell kayak. These sturdy fiberglass boats are made for handling the roughest of water and are quick and agile. However, they do require extensive training to learn how to handle them in rapids. The most often heard complaint about hard-shell kayaks is that they aren't very stable and you are held in the boat by a spray skirt. Hard-shell kayaks sell for about $750 to $2400.
Another way to enjoy the river is with a raft. Inflatable rafts are quite stable and several people and can handle all levels of rapids. Rafts are limited to higher water due to their size, aren't as maneuverable as kayaks, and require several people to paddle. Inflatable rafts sell for about $500 to $4000.
For fun on the San Juan River here in town, my choice of boat is the inflatable kayak. This boat combines the maneuverability of a hard-shell kayak with the stability of an inflatable raft. These one person kayaks are easy to learn and are inexpensive. They can handle all the rapids on the San Juan and make a great boat for use on flat water as well.
While not as quick or maneuverable as a hard-shell kayak, the inflatable kayak is very stable. This means that you can learn to paddle one on your very first day on the river without the fear of rolling your boat. The inflatable also do not hold you in the boat. You sit on an inflatable chair with your legs extended-in front. You can still surf the holes and move easily about the river, as in a hard-shell, but with more confidence that you won't tip the boat.
Outfitted with a life jacket, helmet and paddle, you and your inflatable are ready to take on the river. Using a two-bladed kayak paddle, you quickly learn to control the boat. The kayaks are open so you do take on water when you hit the big rapids and rollers. Some kayaks are self bailing while others may need to be emptied of water occasionally. Packed in your dry bag is a pump and patch kit in case you find a stick or sharp rock in the water. While a kayak is quite puncture resistant, you will sometimes poke a hole in your boat, but repairs are quick and simple.
Inflatable kayaks sell for about $200 on up to about $1800. This cost is generally less than that of both hard-shell kayaks and inflatable rafts. So, if you are looking at all the new rapids in the river and want to try your hand at running them, give the inflatable kayaks a try. They are a great way to get into the exciting sport of river running.
Don't Get in Over Your Head
The San Juan River can be very dangerous not only during periods of high runoff but anytime. Always wear a life jacket that is rated for white water. Helmets, paddling gloves, booties or sandals are also good to wear. During the early season, a wetsuit can mean the difference between a fun trip and a hypothermia experience.
If you are unfamiliar with the river, stop and scout rapids before you run them. The force of the current can trap you against objects in the river. Log jams known as "strainers" can be especially hazardous since they let the water flow through but trap any objects in their branches. The force of the river current is stronger than you are. Once trapped against an object, you may not be able to get out, so stay away from hazards by planning ahead and watching the river ahead of you. Rocks, weirs and irrigation dams can cause the current to hold your boat in the turbulence below the structure. If you get caught in one of these holes, you should paddle to one side or the other to get your boat back out in the current. If you cannot move you may need to swim to free yourself.