27-Hole Championship Golf Course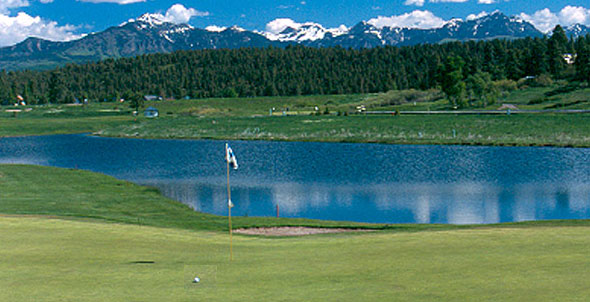 The Pagosa Springs Golf Club is a spectacular Public Resort Facility with 27 championship holes. The Pinon Nine and Ponderosa Nine are mountain courses with ponderosa trees bordering the fairway. The Meadows Nine offers the golfer a links-style course with many lakes and magnificent views of the San Juan mountains of southwest Colorado.

Each year new golfers are tested by our challenging 27 holes of golf. Each course has memorable golf holes. On the Pinon course, Hole #2 consists of a very difficult up hill and long par 4 with a sloping green making it the hardest hole on the course. Hole #5 is also a memorable Par 5 that has a fairway that narrows down towards the green with mature Ponderosas bordering the fairway.
The Ponderosa Nine includes Hole #5 that has an elevated tee that demands a straight tee shot. The Meadows course has a great dog-leg left on Hole #5 that is bordered on the left side by a lake and has sand bunkers strategic located. These are just a few of the challenging holes you can play on the Pagosa Springs course.
Leagues, tournaments, and golf outings at Pagosa Springs Golf Club are great ways to get together on the golf course. Be sure to take a look at what options are available to your group this year. Annual Golf Memberships are available for those interested in enjoying Pagosa Springs to the fullest.

There is always a new reason to enjoy a day of golf and fun times with family and friends at Pagosa Springs Golf Club. It's not just for golfers either- bring the family or meet your golfers at The Pines Bar & Restaurant. Pagosa's only golf club is the ideal way to enjoy the outdoors and the company of others.

  Clubhouse hours are 7:00 am to 6:00 pm through June 9th.  Starting June 10th until September 14th clubhouse hours are 6:30 am to 7:00 pm.
First tee time is 8:00 am due to frost delays, course and weather conditions permitting.
The Pines Restaurant is now open daily from 11:00 am to 7:00 pm, with a fresh new menu for 2014.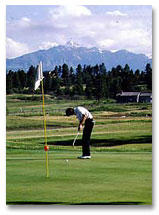 Call for a tee time at 970-731-4755 or visit the Club's web site at www.golfpagosa.com.
Total Holes: 27-hole Regulation
Designer: Johnny Bulla
Year Opened: 1980
Address: #1 Pines Club Place Pagosa Springs, CO 81147
DIRECTIONS: The course is 3 miles west of the town of Pagosa Springs on the north side of Hwy 160.
Courses close to Pagosa Springs are Dalton Ranch, Hillcrest Golf Club and Tamarron (an Arthur Hills design) which are all located in Durango, about an hour's drive from Pagosa. Farmington, NM (2 hour drive from Pagosa) has an excellent course which is top rated by Golf Digest.