Pagosa Springs Fall Colors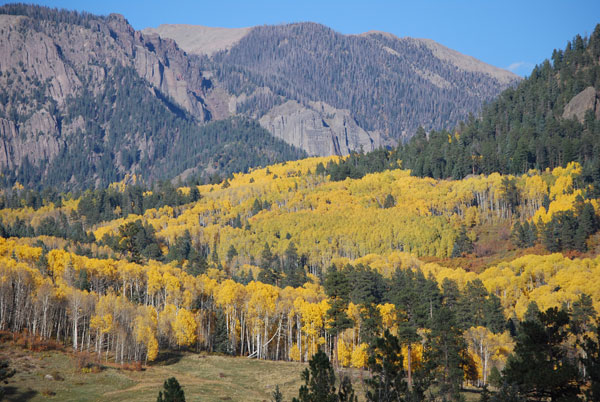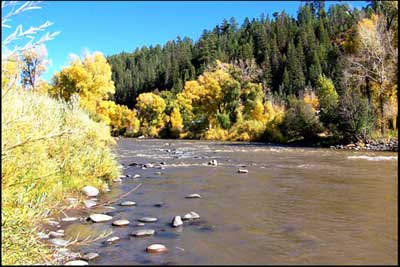 Primetime of the fall color change is a wondrous time in the San Juan Mountains. Most any place you venture into the forest will have good colors. I'll suggest a few drives sure to please. The numbers relate to the forest service map.
Buckles Lake Road
(#663) South of Pagosa about fifteen miles.
A lovely gravel road for any vehicle Buckles has some great views into Spring Creek Valley and then up to the trailhead and short hike to the lake.
Mill Creek/Nipple Mtn. Road
Turn just south of the HWY 160/84 junction east on Mill Creek Road. This is a nice long drive in aspen forests with several side roads to investigate.
Wolf Creek Pass including side trips on Jackson Mtn. Road
See the spectacular view from the Treasure Falls Scenic Overlook looking west toward Pagosa. Jackson Mtn. Road (#037) is a short drive to the trailhead for a nice trail walk into aspen forest.
Plumtaw Road
( #634 from the west, Four Mile Road side) or (#633 from the east, Piedra Road side) A lovely ride with huge vistas and close-up aspen views.
Williams Lake Area:
Up Piedra Road to and around the lake. Take the side trip on Poison Park Road at the lake or hike the first few miles on the trail above the lake.
Mosca Road (# 631) Turn left just south of Williams Lake for a long drive. This road does climb to above the aspen level about half way in.
East Fork/Elwood Pass;
Caution Four Wheel Drive AND High Ground Clearance Only
The first seven miles can be driven in any vehicle but when the sign says four wheel drive it means it. At this point lock up the four wheel drive and put it in low range. Be careful at the two river crossings and judge for yourself the depth and speed of the water. After a hard rain the river can fill to unsafe levels anytime of the year. This is a lovely drive in aspen forest topping out at 11,875 foot elevation on Elwood Pass. For history of this area and details of the drive see Off-Road Section on Pagosa Country Adventure Guide site. Once on top a right turn will take you to Platoro Lake for lunch and on to Chama, New Mexico or turn left and go to Summitville and down Park Creek Road to HWY 160 east of Wolf Creek Pass.
It is beautiful out there and it will not last long, get out while you can. Happy viewing.
Phtographer Bruce Andersen sent this update on October 1:
Norm, I led my fall color 'chase the train' workshop today and wanted to pass along a color update.
Buckles Road: 20%, a long way from peak color
Chama to Cumbres Pass: just before peak color and gorgeous. The remaining green just makes the yellows and crimsons that much brighter.
Cumbres Pass to Platoro: peak to past peak, depending on exactly where you are and were you're looking. Still a very nice drive with some spectacular vistas. Riverbottom cottonwoods are past peak.
Platoro to South Fork via Summitville: not many aspens along here except at each end of the route; those are very brilliant displays and peaking now.
South Fork to Wolf Creek Pass: what aspens and other deciduous trees and shrubs there are peaking or slightly past. Still quite nice.
Wolf Creek Pass to Pagosa: 20-30%, maybe, still a long way from peak color. Cottonwoods along the river are beginning to drop leaves; past peak.
Many people look forward to autumn when the leaves of trees and brush turn brilliant and magnificent colors. This website will keep up with the color change and make predictions on when the colors may reach "primetime." We will also report as the colors fade and leaves drop after primetime.
People travel great distances to see the mountain colors and some do the "Rainbow Run" starting in Alaska or Canada and moving down as the color change slowly moves south.
Disclaimer; This is a deeply felt responsibility and we can only promise to do our best in predicting primetime and reporting reliably.
WARNING: As the colors change in Colorado it is time for the big game hunting seasons. All people entering the forest should wear bright orange vest and caps available in sporting goods shops. In September and early October there are bow and black powder gun seasons with fairly low hunter densities. From October 15th on, a high density of rifle hunters will be in the forest. Be alert!