Outfitters Offer Fun in Pagosa Springs For All Seasons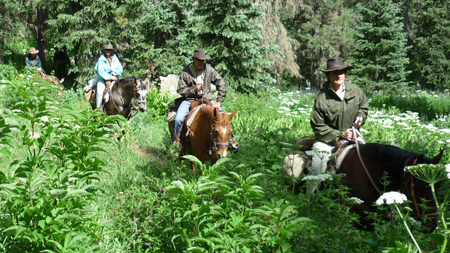 Horseback riding in Pagosa Springs is a longtime favorite activity for many. Majestic Outfitters offers a variety of rides for groups of all sizes and skill levels. The wranglers and horses will meet your needs and win you over, while the Majestic horses amaze you with their ability and charming personalities!
So leave your deadlines behind and escape on a good horse and trail that leads you deep into the heart of the San Juan National Forest. Wildlife viewings are always a possibility and you are guaranteed to see one spectacular view after another on the locations unique to Majestic Outfitters. We highly recommend that you call ahead to ensure we can accommodate the specific needs of your group.
Majestic Outfitters is owned by Larry Melton who hails from Louisiana. Some folks know Larry as the long time previous owner of the winter operation SnowCountry Adventure Tours. In 2012 Mr. Melton sold the snowmobile operation and acquired the longstanding outfitting company Fish Creek Outfitters. Together Majestic Outfitters and Fish Creek Outfitters will offer more activities for tourists to enjoy. Additional pack trip locations, trail rides, fishing trips and hunting trips are now available.
Fish Creek Outfitters offers fully guided hunts and drop camps from Archery Season through Rifle Season. There are plenty of camps in the national forest and south San Juan Wilderness with a variety of terrains and options for different hunters.
Winter fun is still on the menu of services provided by Majestic Outfitters. Starting in the winter of 2013, Larry will be offering horse drawn sleigh rides. The ride will tour through a beautiful mountain ranch surrounded by 360 degree views. Family and friends alike will be cozy under heated wool blankets and the average ride will be 45 minutes to an hour long. After the ride customers may enjoy the ambiance of the ranch, a winter fire pit and hot chocolate.For more information please visit the following web sites. majestic-outfitters.com and fishcreekoutfitters.com