The Meadows Are Greening In Pagosa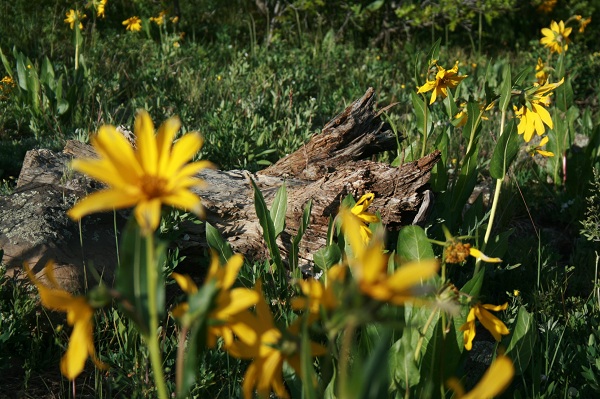 The winter accumulation of snow has receded from the meadows.  A slow, mesmerizing melt of the smallest granules of water droplets begins at the edges.  As the snow melts away, small rivulets form and flow amongst and around each tuff and pebble and foot print of the season before.  As the daily temperatures increase parcels of snow melt away to reveal the flattened brown grasses and stalks of the year before.  In short time, the brown masses begin to change with shoots of green stalks and leaves.  Following them are the buds of spring flowers that blanket the greening meadows tucked between stands of trees reaching high into the sky searching for one more ray of sunshine.
As the warming transpires slowly, yet quickly, the days grow longer and each footstep into the trails more lush and sharing a story of their own.
Within a few short days the petals of flowers protrude and wither.  Fields transition from one color to another in a rainbow cascade befitting to our mountain playground.  Without a moment of observation the beauty can pass without anyone seeing.
Mule's Ears Wyethia amplexicaulis
Height:  12-30″
Flower:  yellow, 4-5″ wide
Leaf:  elongated arrowhead-shaped, 10-20″, long, glossy and hairless
Notes:  named for the shape and size of the leaves.  This plant can be confused with Arrowleaf Balsamroot which has hairy leaves.  Look for the smooth glossy leaves to help identify.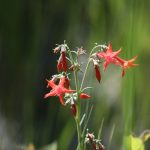 Fairy Trumpet  Ipomopsis aggregate
Height:  1-4′
Flower:  red, 1-2″ long
Leaf:  thin and narrow, 1-3″, long and highly divided
Notes:  one of the most delicate and loveliest flowers in Colorado it looks too fragile to survive in the dry habitat it prefers.  Also known as Skyrocket the flower does have an odorous foliage.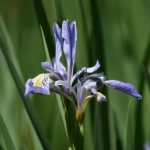 Rocky Mountain Iris  Iris missouriensis
Height:  8-20″
Flower:  purple to light blue, 2-3 1/2″
Leaf:  narrow, sword-like, 6-20″, long, thick and flexible
Notes:  exceptionally intricate and beautiful.  Plants will form large dense clumps in a habitat with sufficient moisture.  Roots are poisonous and should not be eaten.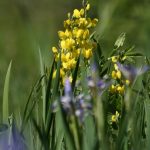 Yellow Pea  Thermopsis rhombifolia
Height:  1-2′
Flower:  yellow loose spike cluster, 2-5″
Leaf:  compound, divided into three oval leaflets 3/4-1 1/2″
Notes:  one of the earliest and brightest flowers to bloom.  Grows in large showy clumps that are difficult to miss.  Does well in rock gardens and can be easily grown from seeds.  Host plant for Persius Duskywing butterflies.
There are lots of field guides to choose from when investigating flowers.  Two choices are:
Wildflowers of Colorado Field Guide, by Don Mammoser with Stan Tekiela
Guide to Colorado Wildflowers, Plains & Foothills, by G.K. Guennel
About Step Outdoors, LLC
Step Outdoors wants you to go outside and we lead individually inspired one foot in front of the other adventure pursuits to get you there.  We tailor a first time overnight backpack or
a more challenging multi-day hiking adventure just for you.  All adventures take into consideration your goals, fitness and experience level.  Perfect for mothers and daughters, couples, families, co-workers or a group of friends, we provide a 100% guarantee of fun.
Check out our blog at http://stepoutdoorscolorado.com/blog/.  Or send us an email at info@stepoutdoorscolorado.com.