On Your Mark – Cani-Cross In Pagosa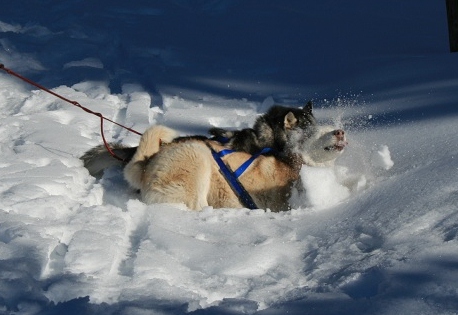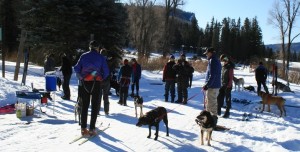 20 seconds … 15 seconds … 10 seconds … 5 … 4 … 3 … 2 … GO!  Kyia began with an unhurried pace, looked back to see what I was doing and then began to speed up.  Me, I couldn't move any faster.
How does one shoot out of the blue chalked starting gate at the Fun Citizens/Novice Canine Skijouring Race?  With left snowshoe pointed into the ground in a runners stance I held my right arm out with a slacked leash.  My brain told me I had half a second before the slack would be captured by my running mate.   We wanted to share in the enthusiasm of this greenhorn Pagosa offering.  I was petrified I would fall on my face and Kyia would keep running with my body bumping along behind.
We were participating in the cani-cross race (dog pulls owner on shoeshoes).  At first blush you could say this is a time for doggies to get back at owners but really, I think doggies want to show off for their owners.
Spectators of the two legged and four legged kind lined the start way.  To the left stood the official timer and to the right the holder of anxious dogs who just wanted to jump at the shout of "GO!".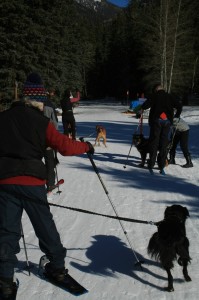 About Kyia.  This husky knows no bounds of affection but he comes when called maybe half the time.  He would remain on leash from truck unload to truck reload (that keeps him out of trouble and why I would never let go of the leash despite the chance I would fall on my face and be dragged by his zeal to be with the "pack" ahead).  Running … that is something he LOVES to do!
Cheering bystanders wave and smile.  Photos are taken with admiring fixation.  We make it over the bridge.  Stay on right and avoid the oncoming skijourers.  No doggie tangles.  No doggie near misses.  Everyone is on their best behavior.  All these dogs are prideful of their speed and stamina and love of pulling their masters with little effort.  We masters, we are simply trying to stay on our feet.
We make a wide turn and Kyia shoots off like the ball from a canon.  Snowshoes galumphing as fast as I'm able, my arm is strung out in front jerking with the up and down pulses of my legs pumping with a chaotic worry of falling.  Switch hands for the leash and try to pull my body forward with the swinging recoil.  I'm on the edge.  No, I'm out of control!  I'm trying to hold on.  I wave.  I smile.
An eight-minute mile.  I don't run that fast on any given workout.  Kyia smiles happily and sniffs the butts of his fellow competitors then rolls in the snow to cool-off.
Everyone is laughing.  Everyone did great.  But, we've decided we need a bit of practice to prepare for the "Pagosa Paw" Dog Sled, Canine Skijoring and Canine-cross Races to be  held over the weekend of February 25 and 26 (spectators come cheer on the dogs).
In the meantime, we both eye fondly our ribbon.  The one that signifies that working together we place second.  A bonding moment for the boy and me!
About Step Outdoors, LLC 
Step Outdoors wants you to go outside and we lead individually inspired one foot in front of the other adventure pursuits to get you there.  In the summer, we will tailor a first time overnight backpack or a more challenging multi-day hiking adventure just for you.  In the winter, we offer snowshoe hikes appropriate for beginners and for those with a tad more experience.  Perfect for mothers and daughters, couples, families,      co-workers or a group of friends, we provide a 100% guarantee of fun.
Check out our blog at http://stepoutdoorscolorado.com/blog/.  Or send us an email at info@stepoutdoorscolorado.com.