Majestic Horse Drawn Sleigh Rides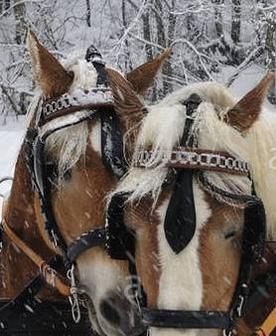 Majestic Sleigh Rides 

A bit of Christmas all winter long.
Majestic horse drawn sleigh rides are available in Pagosa Springs. Come and snuggle up with your family and friends. Enjoy the magic of the season on a winter sleigh ride. Our knowledgeable team drivers and majestic mules and horses will wow you. The mountain air is crisp so bundle up, bring your favorite beverage and relax to the sounds of an old fashion horse drawn sleigh, jingle bells and crunchy snow.
Fun for all ages. Bundle up, wear gloves, warm boots, coats and hats. It may be snowing during your ride. We supply blankets, bring extra if you would like.  The sleighs hold 12-16 people and we welcome large and small groups.
Rides last just under an hour, ending at the tent & bonfire.
Each ride ends with a bonfire, marshmallows and S'mores
Stay awhile, relax, visit and experience Colorado.  You are welcome to bring snacks to roast over the fire, along with your favorite beverages and don't forget apples and carrots for the horses! We sell hot chocolate and s'mores.
​Our experienced drivers and Teams of Draft Horses and the Belgian Mules-Jane and Judy will steal your hearts. Don't forget to bring your camera.
To learn more and to book a ride visit us here or call us at 970-946-1888
And, remember we outfit horseback rides for your summer vacation.
What sets our trail riding company apart from all others? Along with the stunning locations and beautiful horses, is the fact that we are a small owner operated company. This means we have the flexibility to custom tailor each ride to the liking of our riders.
What also sets us apart from any other trail riding company in the region is our AMAZING horses and mules. They are very well trained, have incredible personalities and just love going to work! We don't put just any horse in our strings – only the very best horses are used to carry you and your fellow riders!
Meet the Majestic Outfitters "Herd", they are truly our family and will keep you wanting to come back again and again to experience more of the San Juan National Forest.