Hiker Gone Rogue – Hunting In Pagosa Country (cont.)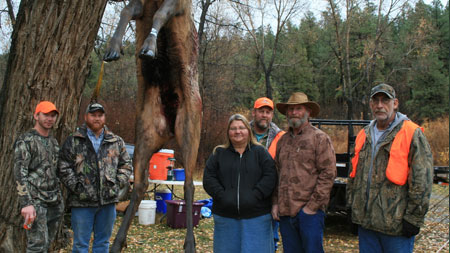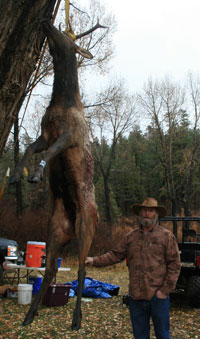 Day Two. No time for coffee or tea.  Shove in some oatmeal and pull on the same clothes as yesterday with the one extra layer I'd wished I'd had last night.  The sun is still hours from rising but we have to find our spot before the elk can spot us.
Yesterday, I'd learned that, "The elk are where the elk are."  Well, that makes perfect sense to me because it's true and inarguable.
When you close the truck door don't slam it, kinda push on it till it latches then begin the animal stalk step – the most silently of all walking! Avoid sticks and crackling leaves.  Tuck between limbs and gently shimmy over downed logs if you can't walk around.  Look for beds and scat and tracks and rubs.  Never be in too much of a hurry.  I gotta poop.  When do you get to poop on a hunt when you must be absolutely silent and think like an animal?  An animal would simply poop in mid step and by golly I'm considering the same between the glassy eyed focus that comes with inhaling two allergy pills in the effort to abate the sneezing that seems to be caused by spruce trees.  My nose is dripping and I wonder if the landing on the drying aspen leaves will give my location away.  The stress is getting to me.
I can't hold it anymore.  The last cramp was warning enough that I'd soon be an animal if I didn't quick dig a hole.  As silent as I'm able there is much relief and I'm further grateful that farting doesn't accompany because that would be a sorry way to lose dinner for months to come.
An unmistakable sound clamors through the lower aspen in an ascent to a barely covered spruce knob where we wait.  Only the smallest of openings can be gotten up head about 120 yards.  The movement isn't restless but calculated and patient.  Then another.  Camouflaged I wait and peer anxiously.  The sun is moving higher onto the horizon giving the forest a glow that can't be described only experienced.  And still I wait.  No shots have been fired this morning as far as I can hear and still I wait.  Disappointment begins to creep with the knowledge that an opportunity has been missed.  He went elsewhere, down the only escape he had, the one to the west and somewhat north.  Just beyond the spruce trees from where I hid.  He was cunning and patient.  I was empty handed.
Day Three. I hardly heard any shots today and wondered if the game was that scarce or simply bedded down further into the brush than men (and women) clad in orange would walk with a seven pound firearm slung over their shoulder.  The weather was changing but my heart wasn't in-to-it.  Isn't a part of hunting drinking beer?  I'm going to drink a few beers!
Day Four. It's sleeting and slushing with thunder and lightning.  Call me a fair weather hunter, I'm not sitting out there!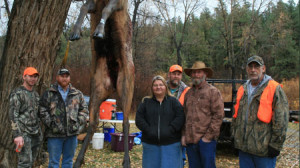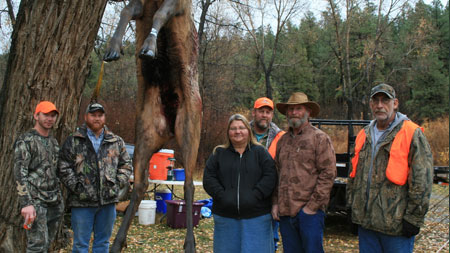 But, late in the day I headed out for a drive and on my way back happened upon a bull hanging in a tree.  Walking up to the camp with a camera in hand I asked if I could take a photograph of the hunter and his prize.  The Hatfield clan is from Luther, Oklahoma and acknowledged the challenges, and rewards, of hunting in Pagosa country.  With nothing but glowing comments about the locals of Pagosa Springs I felt proud that of the many places hunters from all over the country could go to hunt they chose our little paradise in the southwest part of the state.
Photograph 1 – Jimmy Hatfield and bull
Photograph 2 – Mary Hatfield, Jimmy Hatfield, Matthew Hatfield, Arron Hatfield, Tommy Green and David Buchanan
Click here to read Part III – http://www.pagosa.com/adventureguide/hiker-rogue-hu…ntry-last-cont
About Step Outdoors, LLC
Step Outdoors wants you to go outside and we lead individually inspired one foot in front of the other adventure pursuits to get you there.  In the summer, we will tailor a first time overnight backpack or a more challenging multi-day hiking adventure just for you.  In the winter, we offer snowshoe hikes appropriate for beginners and for those with a tad more experience.  Perfect for mothers and daughters, couples, families, co-workers or a group of friends, we provide a 100% guarantee of fun.
Check out our blog at http://stepoutdoorscolorado.com/blog/.  Or send us an email at info@stepoutdoorscolorado.com.