Ground Pounders At Work In Pagosa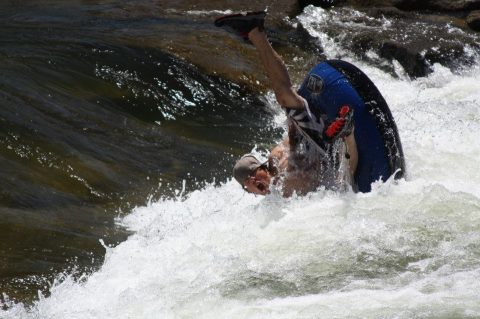 On occasion the time calls for something out of the ordinary.  And, well because we don't know how many people really read any of these quips from someone who enjoys spending as much of their time as possible outside, it is difficult to determine when an article will bring a bellyful of laughter or hate mail.  Please, don't send hate mail.
Tension is palpable for some – they've grown tired of the smoke and haze.  Temperatures have been blasted hot and rain … well, we are waiting for rain.  Yet, there is still so much to do in this town of ours.  I love the blue tubes floating lazily down the river.  Toby and his crew from Pagosa Outside are busy traveling up and down the road dropping happy visitors into the San Juan River.  Willie and his crew at Crazy Horse Outfitters and Guides is wrangling the horses up for pack trips.  If you want to relax with homemade bread or dessert the Pagosa Baking Company with its outdoor seating is an optimal choice.  There is so much fun to be had in Pagosa Springs.  Hike, bike, horse pack, tube, eat, attend the festivals and shop.  What a great way to spend many days!
Pagosans can show and teach you everything there is to know about living in some of the most spectacular country imaginable.  Sure, it is "Refreshingly Authentic," has "The most snow in  Colorado," yes, it is "Your Business. Your Life. This Backyard."  Sure, it is a fabulous place to "Write your own fishing stories," and "Restore your sense of fun."  Whew, that is a lot to do in a community of just a couple of thousand.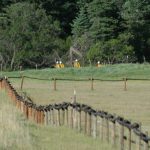 While you can do all of these things … there is one thing I haven't seen on any list.  It would be a huge disservice to the forest service personnel that have so dominated the state if we did not take this opportunity to share with you some formal and informal fire terms.  Seriously, take a peek if a gal pal says, "Nice scenery."  Sure, it could be the mountains that bejewel our community but it could be a pair of green pants with fire boots.
To ensure that you are up to date here are a few things I most recently learned from John N. Maclean and his second literary work, Fire and Ashes (available at the library).
Another pair of shoes for baby:  a new fire assignment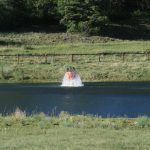 Bambi bucket:  a collapsible bucket used to dip water for fire suppression and slung below a helicopter
Bowling for hotshots:  rock and debris rolling down hills
Burning period:  the part of each 24-hour period when fires spread most rapidly, typically from 10 am to sundown
Coyote tactics:  crews resting and sleeping at or near the fire
Dopes on ropes:  firefighters who drop on ropes from helicopters to attack flames
Earthpig:  hotshot
Firebreak:  a barrier, natural or constructed, used as a control line from which to work
Ground pounder:  firefighter on a hand crew
Hooters:  Forest Service firefighters paid to look for spotted owls, an endangered species
Lawn darts:  smoke jumpers
Pavement queen:  a fire engine that must remain on pavement
Shake and bake:  a fire shelter
Tanker kitten:  cute girl who works on an engine
Touron:  a cross between a tourist and a moron
Wildland-urban interface:  the line, area or zone where structures and other human development intermingle with wildlands; also called the red zone
Now that you are more knowledgeable on the vocabulary, thank the forest service personnel who are smoke smelling, soot covered, donning their favorite colors of green and yellow and downing down another cup of hot coffee.  Then, go into the grocery store and buy them a case of Gatorade or a box of Twinkies.  Your gesture will go a long way.
About Step Outdoors, LLC
Step Outdoors wants you to go outside and we lead individually inspired one foot in front of the other adventure pursuits to get you there. We tailor a first time overnight backpack or a more challenging multi-day hiking adventure just for you. All adventures take into consideration your goals, fitness and experience level. Perfect for mothers and daughters, couples,
families, co-workers or a group of friends, we provide a 100% guarantee of fun.
Check out our blog at http://stepoutdoorscolorado.com/blog/. Or send us an email at info@stepoutdoorscolorado.com.