Fourmile Falls Hike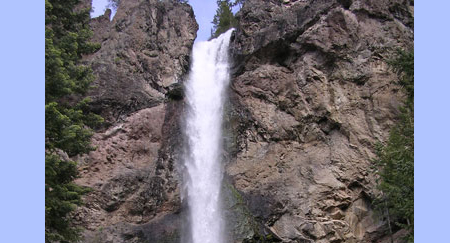 Falls Creek & Fourmile Falls:
From Hwy 160, turn north onto Lewis St. and an immediate left onto 5th St. Stay right onto Four Mile Road (CR400 – this becomes FS #645) driving north eight miles from Pagosa Springs. Turn right at the junction for four more miles to the trailhead. The trail follows Fourmile Creek with Eagle Mountain to the east. The trail is bordered by dense stands of aspen and spruce-fir. At mile three you will reach the Falls Creek Waterfall, which drops 300' from the cliff above. At mile four you will reach Fourmile Falls on the right.
Spilling hundreds of feet over a precipice of dark volcanic rock, Fourmile Falls makes an interesting destination in the Weminuche Wilderness north of Pagosa Springs. Accessed by a short and easy hike, this spectacular feature of the rugged San Juan Mountains can be enjoyed by hikers of nearly all ages and abilities. The hike is approximately three miles each way. A relatively easy hike, the Falls are among the highest in this region.