Fishing in Pagosa Springs – Stocking & Photos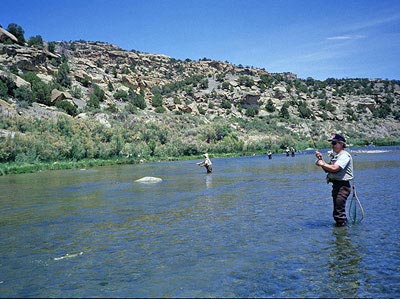 Thanks to the Pagosa Quality Fishing Project, the San Juan River downtown gets stocked with thousands of larger trout for high quality fishing excitement every year! In 2008, Pagosa Springs had THE most stocked river in the entire United States!
Continue to scroll down for fishing spots and photos.
Anglers the season is ON!!!
 See this photo in larger format click here.
Want to keep up with fishing and stocking in Pagosa Springs?   

bpetersons52@hotmail.com

The San Juan River in Pagosa Springs was stocked with trout Saturday June 18th. Jaws, photo above, is waiting for you!

Stocking is a popular activity in Pagosa Springs. This first stocking was combined with a fundraiser featuring a silent auction, food and fun activities for adults and children.

Bruno Petersons introduced Wildlife Ranger, Doug Purcel for a discussion on fishing.

Did we mention these are large fish! Some were smaller, but all were BIG!

What a great father and son experience on Father's Day Eve.

Some teams just dump the fish in while others place them one at a time and nurture them to overcome shock.

  

This local angler was ready to rock bringing his rod with him. Truth is the trout don't bite well for a day or two after the road trip and trauma, but fishing is still fun!

Here are pictures of the trout I caught this morning. One is 18″ and the other is 20″. I am here visiting from El Paso, Texas. Fishing is great and the fish are huge. Brad Jarman

 

Now that is one nice trout…

 

Workin' holes in the river pays off!

 

 

PAGOSA Quality  Fishing Project Click here for the Fishing Project's Website

'Nuff said?