The Finesse of Toobing!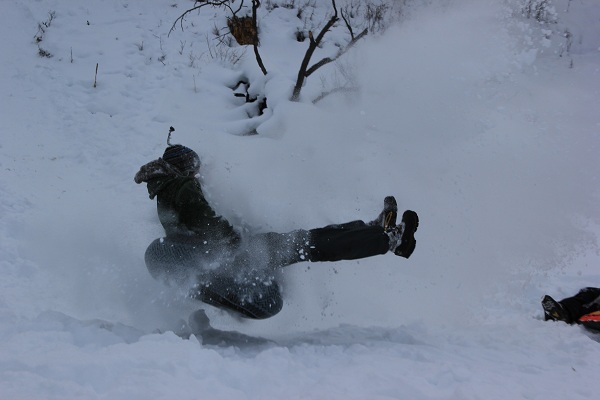 There is a reason why I love photography over video. With a series of photographs there is anticipation of what will happen next.
Wikipedia tells us that snow tubing is rumored to have begun as far back as the 1820s in the Alpine Mountains. Gravity propels the tuber to the bottom of the hill and regardless of age (my note) you will continue to walk up a hill just to continuously propel yourself down the hill. Because of the circular shape of snow tubes, controlling the course and speed of a tube while riding on snow is extremely difficult. Keeping that in mind, this is what you need to know regarding the finesse of toobing!
This afternoon we ran into the Thomas family enjoying an afternoon of tubing with the family. Here is one series of photographs that will make you grin from ear to ear and maybe grab your belly for fear of the landing.
Notice: No children were injured on a day on the hill!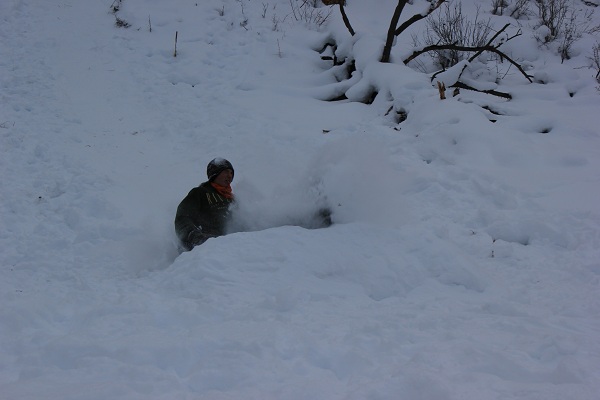 First, build a ramp. This requires forethought and eager young arms. Of course, you already have a snow shovel in the bed of your truck to help you out of the ditch so having to go find this tool is rarely problematic. It will take a few trials of upward climbing and downhill sledding to ensure your ramp is in the right location. But, the good news is that you will begin icing the hill and as a result increasing the rate of speed and velocity of your take off! Once you hit the ramp it is important to close your eyes … you don't want to see what is coming next.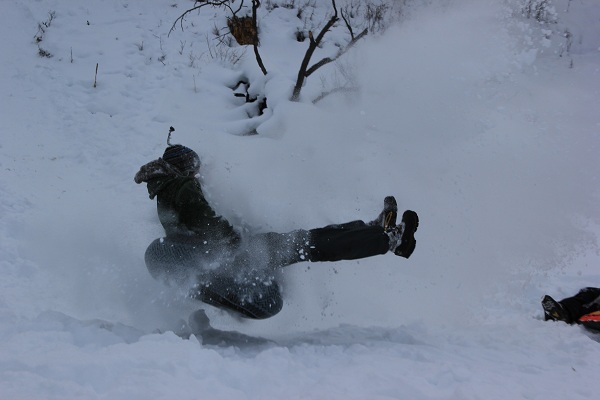 You've succeeded at lift off. Hold on tight. It is important that you don't let go of the tube. Here, you earn style points for take off. Height will earn you great admiration from friends and family members. Even if you are not in control appearance is everything.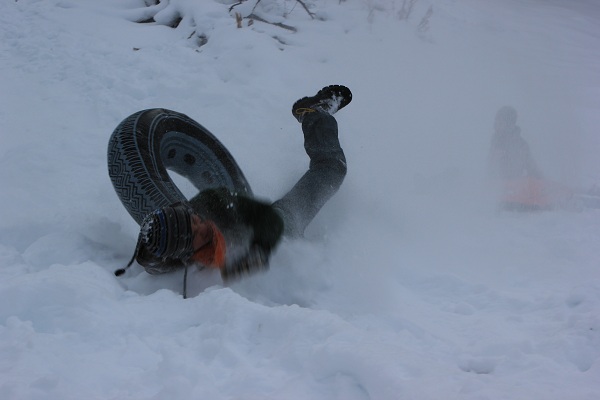 The landing. It is important to stick the landing which means simply staying on the tube. But, the more you run your route and hit your ramp the further and faster you will go. And, this can initially be a bit unsettling. What is now required is a tool for measuring (a good choice is the tow rope also located in the back of the truck which is often used to pull people out of the ditch they got themselves stuck in) because the game has changed. Now, distance is included in the point tally!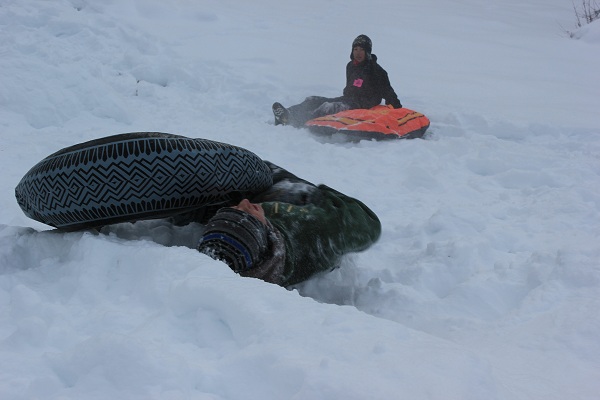 Recovery. Finishing under the tube is not necessarily the best conclusion for a ride down the hill but it happens. Jump up with a smile. Dig the snow out of your ears. Head back up the hill. Time to go again.
About Step Outdoors, LLC
Step Outdoors wants you to go outside and we lead individually inspired one foot in front of the other adventure pursuits to get you there. In the summer, we will tailor a first time overnight backpack or a more challenging multi-day hiking adventure just for you. In the winter, we offer snowshoe hikes appropriate for beginners and for those with a tad more experience. Perfect for mothers and daughters, couples, families, or a group of friends, we provide a 100% guarantee of fun.
Check out our blog at http://stepoutdoorscolorado.com/blog/. Or send us an email at info@stepoutdoorscolorado.com.
Open Wed-Sun 10 am – 5 pm
Open daily during holidays!
$12 per person for a 2 hour session
3 & under FREE with a paying adult
Group rates available tubes are included!!