Family Sledding in Pagosa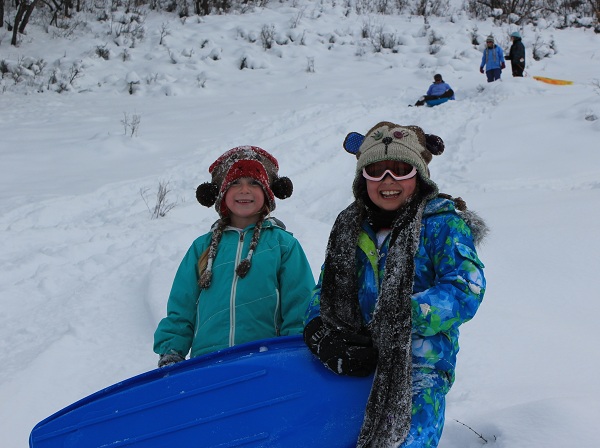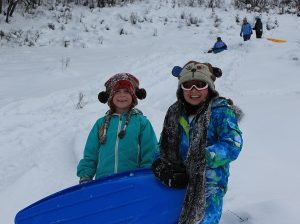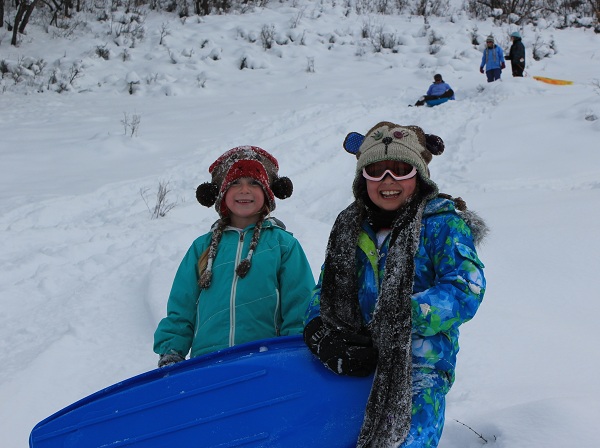 Noses drip with frosty accumulation. Gloves are packed with snow. Hats of various designs cover heads of different shapes and sizes. Full winter fashion is the trend to keep the little ones warm and older ones warmer. Between the slits of caps and muffs are the glow of red cheeks and the grins that expand from ear to ear. The annual winter sledding gathering has commenced.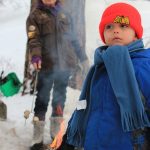 The first to head up the hill has the most arduous of tasks. Breaking trail for the little ones to follow. Only a few trips are required before the path is well trodden and wide enough for the pull behind saucer, sled and tube that will provide the ambitious, curious, and first timers for a fast zip down the hill.
The well prepared bring a shovel and create ramps and steeper chutes. And, as the time passes the route grows slicker with the friction of soaring that creates an accumulation of ice. The saucers, sleds and tubes fly faster and further. The smiles broaden wider.
At the bottom of the hill is a small campfire with nana tending the flames and sticks with marshmallows and hot dogs. The tiniest of the extended family grow tired but are comfortably nestled in the arms and laps of parents chatting with their siblings and reminiscing of the times they flew unabashedly down the same hill. Traditions like these endure because of strong bonded families; something we should all aspire to replicate.
The photographs of this piece are of the Thomas family – local Pagosans.
About Step Outdoors
Step Outdoors wants you to go outside and we lead individually inspired one foot in front of the other adventure pursuits to get you there. In the summer, we will tailor a first time overnight backpack or a more challenging multi-day hiking adventure just for you. In the winter, we offer snowshoe hikes appropriate for beginners and for those with a tad more experience. Perfect for mothers and daughters, couples, families, or a group of friends, we provide a 100% guarantee of fun.
Check out our blog at http://stepoutdoorscolorado.com/blog/. Or send us an email at info@stepoutdoorscolorado.com.
Sledding –Thanks to the Town Tourism Committee, Reservoir Hill got upgraded to have a sledding and snowboarding hill downtown in 2010. Other hills in the community also are popular such as Lobo Overlook parking area on Wolf Creek pass, Hatcher Lake Greenbelt, and the golf course. Make sure you are on public land and not private, however. Or head over to High Country Tubing Park! 
Open Wed-Sun 10 am – 5 pm
Open daily during holidays!
$12 per person for a 2 hour session
3 & under FREE with a paying adult
Group rates available tubes are included!!