Fall Fishing is Incredible in Pagosa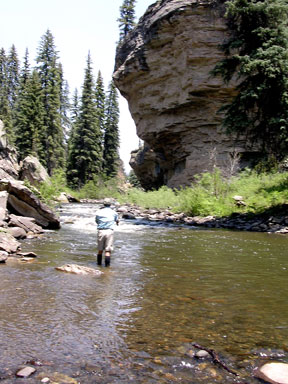 When the monsoon rains subside and the skies stay blue all day long, fall fly fishing is amazing on the rivers of Pagosa Springs Colorado. Many of the lakes, such as Williams Creek Reservoir, are not accessible during the late Fall and winter months due to the forest service roads being closed. The other lakes, such as Pagosa Lakes and Echo Lake, start to freeze in the late Fall and Winter. However, the slow running streams provide incredible Fall fishing opportunities.
San Juan River – Downtown
At times, fishing in the San Juan River through the heart of Pagosa Springs is as good as it gets.
East Fork of the San Juan – The lower stretch of the East Fork offers good fishing for rainbow and brown trout, while its wild upper reaches are more akin to brook trout and native Colorado River Cutthroats.  To get there, travel approximately 10 miles northeast of Pagosa Springs on U.S. 160.
West Fork of the San Juan
Aside from good rainbow and cutthroat trout fishing, the West Fork offers incredible scenery. A left turn off of U.S. 160, 17 miles east of Pagosa Springs, affords easy access to water through public and private lands. The best fishing is in the forest beyond the trailhead at the end of the road.
Piedra River
Easily accessible from Piedra Road (County Road 600).  Hike along the Piedra River Trail to access great river fishing.