Experience the True West on Horseback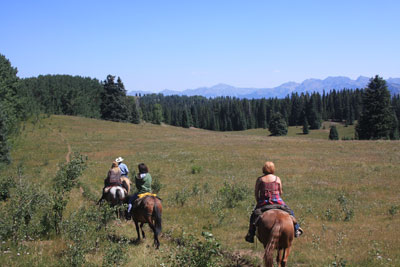 For a pure Western adventure, nothing can beat roaming the Colorado Mountains on horseback. Meander through miles of panoramic vistas and lush aspen forests while enjoying the raw splendor of the Colorado Rockies in the summer. Relax in the peace of the gentle winds, wildflowers and awe-inspiring views.
Knowledgeable guides help complete the journey by making sure you don't miss points of interest or wildlife. Pagosa Springs offers a variety of guided options. Some outfitters provide 1-2 hour trips in town, whereas others take groups into the National Forest for ½ day and overnight trips for a wider variety of views and terrain. Certain outfitters also specialize in pack trips during the hunting season.
One of Pagosa Springs' favorite horseback riding companies is Majestic Outfitters. As owner Larry Melton says, "Riding with Majestic is like traveling through a time tunnel".  Experience the San Juan Mountains as it was explored 100 years ago.  Known for their friendly horses, breathtaking vistas and unique trip locations, Majestic offers a 2-hour ride, half day ride, and a variety of overnight majestic pack trips.
The 2-Hour Ride, which is just right for beginners, consists of gently sloping terrain, beautiful views that overlook Pagosa Springs, and a high potential for wildlife viewing.
The Half Day ride, Above and Beyond, takes people higher into the backcountry and also provides a break at Larry's Lunch Room, a fabulous overlook of the Majestic Valley of the San Juans.The Majestic Pack Trips treks to the Continental Divide with panoramic mountain views, crystal-clear alpine lakes and plenty of wilderness to explore. Enjoy wildlife viewing, panning for gold, cooking outdoors with an experienced wrangler, and sleeping in the Rockies. All equipment and tents are included. Majestic pack trips offer the adventurous vacationer a 3 day minimum to 7 day outing in nature. However, if you are a family with young children, they also have a location for an overnight camping trip.Majestic raises their horses by hand"]Majestic Outfitters is owner-operated and has been servicing the outfitting and tourism business for more than 20 years and has owned Majestic for the past three years. Their horses are hand-raised in the high country…which means they not only handle rocky mountain terrain well, but their sweet dispositions are great for kids and adults alike. They cater to private groups from small to large, making every trip personal, fun and memorable. For more details contact them at 970-264-7669 or visit their website at: http://www.majestic-outfitters.com.