Elwood Pass – Hiking Trail No. 813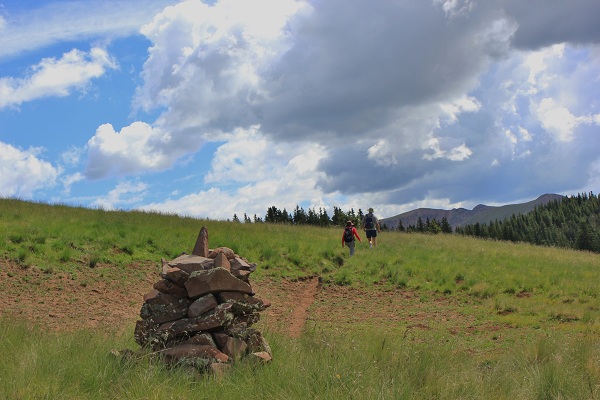 Once you reach the rocky and unwelcoming turnout on the side of the road you park. Stretch your legs. Take one last peek at the map and choose a direction. On this day, I choose north away from the windy dirt road. Away from the crowds clamoring to reach the tucked away lake. Away from the fast paced hustle of street signs and stop lights. Away from any sounds other than the pounding of my heart, my own heavy breathing and initial short gasps of air. Then the calm of pattern from the overly hastened first steps brings strength and endurance. Now, I can concentrate on the flit of the Pine Grosbeak and wave of the grasses and mid-summer pulsating flowers in an array of colors.
The sky is already darkening. Clouds are curvaceous with their designs and intimidating build. Uniformity is lacking. A kaleidoscope of gray coloration deserves just as much attention as the footpath to which I'm traveling.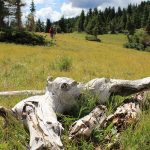 An area rich in passes – Wolf Creek, Elwood, Treasure, Railroad, Silver, Bonito and Summit – the history is significant enough to know that, "There may be gold still hidden in these hills." Despite this knowledge and your scouting for a glimmer of shiny material clawing its way out of a hand dug hole from the 1790's some attention has to be paid to the walk you are having.
Spruce forest opens to meadows and skirting of small stands of trees permits peeking around the trunks for bedded elk and munching rabbits. Bear tracks are sighted for the trail tread observant. Oversized cairns speak from within as the picas chirp and scream of your trespass. Grassy meadows and steep hillsides boast of Fairy Trumpet, Columbine, purple Asters, False Marigolds and Shepard's Purse. The rocky outcrops beckon a strong foot to climb and see the views from a higher vantage outlook.
Trickles of water remind of the preciousness of this high altitude. Again, I look skyward. Two claps of thunder call in the near distance and for only a moment raindrops fall heavily on the green grasses anxiously awaiting the afternoon shower. It is time for me to turn around. To return from where I'd come. First though, I'll take one more instant to enjoy the view.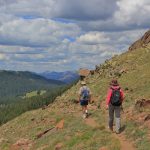 The Details
Trail: Continental Divide Trail No. 813
Distance: own choice; up to 19-miles to Wolf Creek Pass; 6.8-miles (one way) to Bonito Pass
Directions: Travel to and over Wolf Creek Pass on Hwy 160 to Park Creek Road (FR 380). Turn right onto FR 380 and travel for 18.5-miles to a turnoff on the right side of the road with a sign reading Elwood Pass.
Step Outdoors wants you to go outside and we lead individually inspired one foot in front of the other adventure pursuits to get you there. Whether you are interested in a first time overnight backpack or a more challenging multi-day hiking adventure, we will tailor a trip just for you. Perfect for mothers and daughters, families, co-workers or a group of friends, we provide a 100% guarantee of fun.
Check out our blog at http://stepoutdoorscolorado.com/blog/.