Cross Country Trails & Directions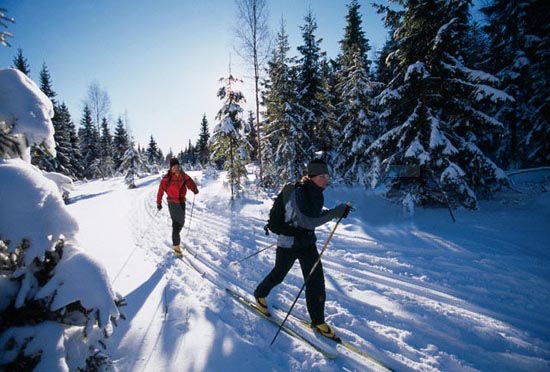 Yamaguchi Nordic Track
Also located in downtown Pagosa Springs, this 1.5 km Nordic track loop provides flat conditions for 100 percent beginner terrain, providing a great family area and perfect lunch-time workout area. Pagosa Nordic grooms a 1.5 km loop for skate skiing, with set tracks for classic cross-country skiing. Getting there: Follow Hot Springs Boulevard past Pagosa Springs Town Hall and turn right on Apache Street, then left on South 5th Street. Follow South 5th Street about two blocks to the parking area.
Reservoir Hill
NOT Recommended for Beginners due to slope & need for speed control. Yamaguchi Park is excellent for beginners in downtown. Reservoir Hill is located in the heart of downtown Pagosa Springs and the trailhead is within easy walking distance of a variety of downtown lodging establishments and public parking. Reservoir Hill provides trails interspersed with hills; some skiers walk between trail sections. Pagosa Nordic grooms up to 10 km for skate skiing with set tracks for cross-country skiing. Getting there: Take U.S. 160 to down town Pagosa Springs. Turn south at the Hot Springs Boulevard traffic light and take the second left onto San Juan Street. Look for a public parking area on the left. From the public parking area, it is a short uphill walk to the Spa Trailhead, which provides access to Reservoir Hill.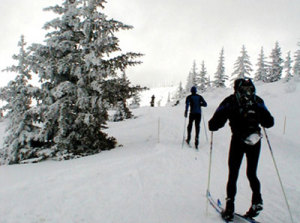 Alberta Lake Loop
From Pagosa Springs travel 23 miles East on Highway 160 over Wolf Creek Pass to Wolf Creek Ski Area.  Drive to end of Tranquility parking lot.  Trail heads down to Alberta Meadows where a 4 km loop goes around the natural meadows and an additional 6 km loop takes you down to Alberta Reservoir. Use of cross country trails is complimentary of Wolf Creek Ski Area: no  fee. 10 KM Groomed Nordic Trails

2 Coyote Hill
From Pagosa Springs go north on Piedra Rd (CR600) 6.5 miles.  Once you pass N Pagosa Blvd, go 1/4 mile further accress cattle guard(end of pavement).  Coyote Hill trail head parking on right.  Groomed by Pagosa Ranger District. 14km Groomed Nordic Trails, all ability levels. View map
Yamagucci Park
South on Hot Springs Blvd past Town Hall. Turn right on Apache St., over bridge, left on S 5th st. Go 2 blocks, parking on left.
1.5KM Groomed Nordic Track Easy Terrain
6 West Fork
From Pagosa Springs, go 15 miles East on Hwy 160 to West Fork Road.(#648) on left just before Treasure Falls Turnout.  trailhead 1/4 mile at end of road.
15KM Groomed Nordic Trails
7 Top of Wolf Creek Pass
23 miles northeats on Hwy 160 to top of Wolf Creek Pass.  South side of Hwy is multi use area.  Some commercial snowmobile operations.  Non motorized area 1/4 mile further east Hwy 160 to Lobo Overlook parking lot on left, North. Increased avalanche potential. Backcountry terrain.
9 Wolf Creek Trail
20.8 miles northeast on Hwy to Wolf Creek Road (FS#725).  Some commercial snowmobile operations.
Increased avalanche potential. 11km Intermediate
10 Fall Creek Road
19.3 miles northeast on Hwy 160 to Fall Creek Road(FS#039) Some commercial snowmobile operations. Increased avalanche potential. Groomed early season only. 11km Intermediate.
East Fork Trail
10 miles northeast on Hwy 160 to East Fork Road (FS#667), go 1 mile to the closure. Increased avalanche potential.
23km  Groomed by Trail Blazer Snowmobile Club
12 Jackson Mountain
7 miles northeast on Hwy 160  13km Intermediate
Plumtaw Trail
From Hwy 160 in Pagosa Springs, go north onto Lewis Street, immediate left onto N. 5th St, becomes Fourmile rd (CR 400). Go 6.5 miles to trailhead.  Roadside parking.  Some commercial snowmobile operations.  Connects with McManus/ E Toner trailhead, (18 miles north on Piedra Road to FS Rd. #632).
36km Intermediate. Groomed by Trailblazer Snowmobile Club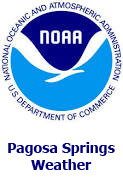 Nordic Ski Options South on U.S. 84:
Nipple Mountain Road (Forest Road 665)
In addition to traveling Nipple Mountain Road, there are a few other options in this area. The hardy person with a map and backcountry skills may identify lengthy or loop trips. Getting there: From downtown, go east on U.S. 160 to the junction with U.S. 84. Travel 1/8 mile south on U.S. 84 and turn left on Mill Creek Road (CR 302), drive approximately 5 miles to trailhead parking before the junction with Nipple Mountain Road (665).
Blanco River Road(Forest Road 656)
Blanco River Road is closed at the highway. The route generally parallels the river for 2.5 miles from the highway to Blanco River campground. Getting there: Travel 11 miles south on U.S. 84 to Blanco River Road. Parking may be limited.
Nordic Ski Options North of Pagosa Springs:
Fourmile Road (645) and Plumtaw Road (634)
The first 1.5 miles of this route is uphill. At the junction, one can continue on Fourmile Road or go left on Plumtaw Road. For a long trek, continue on Plumtaw Road to its junction with McManus Road in the Upper Piedra, a distance of about 17 miles. This route is groomed occasionally by the Wolf Creek Trailblazers snowmobile club. When groomed, it can provide a quality distance ski.
Getting there: Turn east on Lewis Street, immediate north (left) on Fifth Street, which becomes Fourmile Road. Travel 6.5 miles north on Fourmile Road to the closure point near the national forest boundary.
Williams Creek Area
Open, fairly flat area that is good for beginners. Enjoy spectacular views of mountains and large, open parks. Unplowed road continues past Williams Creek Reservoir to Poison Park and Williams Creek trails.
Getting there: From downtown, travel two miles west on U.S. 160, turn north on Piedra Road (630 then 631). Travel 22 miles, and then turn right on Williams Creek Road (640), continue to Williams Creek Reservoir.
Info from Pagosa Nordic Club. Trail maps here