Campfire Cooking – A Pagosa Hint – Part 3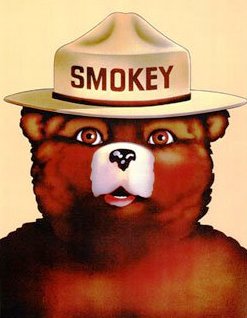 Now that you have eaten a most scrumptious meal and the kids have marshmallow goo all over their face, hands and the front of an already filthy t-shirt it is time to put out your campfire.
Smokey the Bear is a grand guy and appreciates your responsible actions with fire..  Earlier you were reminded to have a shovel and bucket of water near your fire just in case.  And, now you get to use those tools to ensure your fire is a DEAD OUT FIRE.
Following these simple steps will assure that you are not the one who accidently set the forest you enjoy ablaze when the temperatures are warm and tinder dry.
Allow the wood to burn completely to ash (all the more reason not to stack those big uncut logs in the middle of your firepit);
After your fire is reduced to ash pour water on the fire, drown ALL embers, not just the red ones (begin with a drizzling of water to avoid the steam flash);
Pour until the hissing sound stops;
Stir the campfire ashes and embers with a shovel;
Scrape the sticks and logs to remove any embers;
Stir and make sure everything is wet and is cold to the touch; and
Continue adding water and stirring until all material is cool.
Remember, do not bury the fire as the fire will continue to smolder and could catch roots on fire that will eventually get to the surface and start a wildfire.
For more fun hints and the Smokey the Bear story visit http://www.smokeybear.com.
Got any fun recipes to share?  Post a comment for others to see.
About Step Outdoors, LLC
Step Outdoors wants you to go outside and we lead individually inspired one foot in front of the other adventure pursuits to get you there. We tailor a first time overnight backpack or a more challenging multi-day hiking adventure just for you. All adventures take into consideration your goals, fitness and experience level. Perfect for mothers and daughters, couples,
families, co-workers or a group of friends, we provide a 100% guarantee of fun.
Check out our blog at http://stepoutdoorscolorado.com/blog/. Or send us an email at info@stepoutdoorscolorado.com.