Campfire Cooking – A Pagosa Hint – Part 2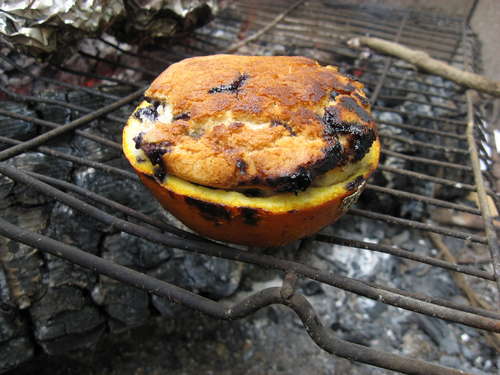 The most perfect campfire has been prepared and the coals are hot.  What are you going to make for a meal?  How about these options?
Breakfast – Orange, Egg and Muffin – easy to prepare!
Ingredients:  orange, egg, muffin mix and seasonings to taste
Equipment Needed:  aluminum foil, knife and spoon
How to Prepare:  cut orange in half and eat the insides (that is your fruit).  Cut the orange in half to form two cups.  Remove pulp careful not to make a hole in the rind.  Eat the
orange – that is part of breakfast.  In one half of the orange fill 2/3 full with muffin mix.  In the second half of the orange break an egg – hard boiled or scrambled is your choice.  Add seasonings to taste.  Wrap each half with foil leaving a small air space in the top.  Place orange bottoms on hot colas and cook until done.
Dinner – Campfire Vidalias – a savory appetizer!
Ingredients:  Vidalia onion, tablespoon of butter,  clove of garlic and salt to taste
Equipment Needed:  aluminum foil, non-stick spray and knife
How to Prepare:  peel outer layer of onion.  Slice onion into quarters (keep the onion together).  In the center place one tablespoon of butter and one whole clove of garlic.  Double wrap onion in aluminum foil and place on coals of campfire.  Cook for approximately 35 minutes.  Steamy when opened, use caution and season with salt.
Dinner Entrée – Heavenly Fish - you caught your fish now it is time to cook!
Ingredients:  fish (trout is good), cherry tomatoes, lemon, garlic, lemon salt and Sprite/7up
Equipment Needed:  aluminum foil
How to Prepare:  prepare the base with a double layer of aluminum foil.  Place the fish filet in the foil and top with halved cherry tomatoes, half a small lemon and a pinch of garlic and lemon salt.  Pure 1/3 cup of Sprite/7up in the foil.  Bring edges of foil together and seal with multiple folds.  Place on coals and cook for approximately 10-15 minutes.
Dessert – Banana Boats – you've tried this before … right!
Ingredients: banana,  mini marshmallows and chocolate chips
Equipment Needed:  aluminum foil and knife
How to Prepare: cut a slit down the long way of the banana (leave the skin on).  Remove a small amount of the banana meat then fill with mini marshmallows and chocolate chips.  Wrap with aluminum foil and place on hot coals for 10 minutes.  Best if served on a plate and eaten with a spoon.
Bet you can't wait to try these and comment with your experience.   Read part 3 –  http://www.pagosa.com/adventureguide/campfire-cooking-pagosa-hint-part-3/ as a reminder of how to ensure your campfire is a DEAD OUT FIRE.
About Step Outdoors, LLC
Step Outdoors wants you to go outside and we lead individually inspired one foot in front of the other adventure pursuits to get you there. We tailor a first time overnight backpack or a more challenging multi-day hiking adventure just for you. All adventures take into consideration your goals, fitness and experience level. Perfect for mothers and daughters, couples, families, co-workers or a group of friends, we provide a 100% guarantee of fun.
Check out our blog at http://stepoutdoorscolorado.com/blog/. Or send us an email at info@stepoutdoorscolorado.com.