Big Game Rifle Season in Pagosa Springs Opens Oct. 15, 2011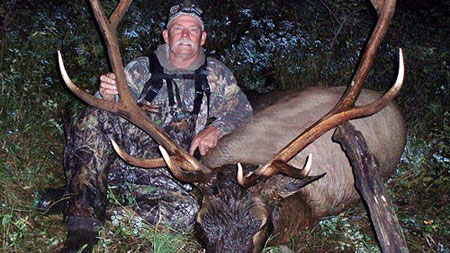 Some elk seem to be at lower elevation for the time of season, a hint to hunters in the area. Watch here for updates as the hunt progresses.
The Big Game Rifle Seasons in the San Juan Mountains of Southwest Colorado will be starting in October. All of Pagosa Country and the Adventure Guide will be welcoming hunters with our Big Game Hunter's Hospitality Event. This year the hospitality event will be offering our usual series of exciting and fun offerings. All hunters are invited to take part in the "extras" Pagosa has for its hunters.
Watch for Town Tourism Committee Ambassadors delivering the handout to hunters along forest roads and trails.
The popular Big Game Hunters Radio Show can now be heard on KWUF's internet site. Hunters can call home and let friends and family in on all the fun we have during the hunting seasons. In future years hunters can listen to the show and get a lot of information on how the hunt is going in the previous seasons before traveling to Colorado.
Big Game Hunter's Radio Show
Tune in Thursday and Friday at noon for the "Pre Season Big Game Hunter's Radio Show" and every night for the first five days of each season for "The Big Game Hunter's Radio Show." One hour of "real time" hunter news including interviews with hunters, hunting talk with Dick Ray and Larry Fisher, current weather and "going home" weather, sport and racing news, hunter's contest news, all pertinent hunter's information and our own music created just for our big game hunters.
Listen on KWUF.com.
The Big Game Hunter's Show… 7:00PM the first five days of each season.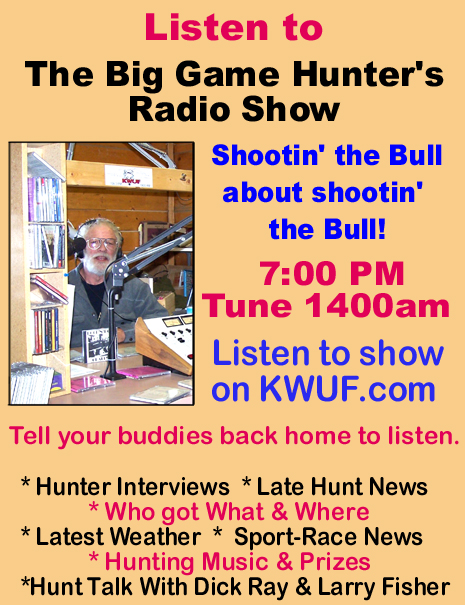 Pagosa.com will be putting photos on the internet site of successful hunters so friends and family can see their happy hunter. Norm will be taking photos as he travels the San Juan visiting hunter's camps. Hunters can also have the photo taken at The Buck Stop Game Processor eight miles west of Pagosa Springs and at The Ski & Bow Rack on the east end of Pagosa Springs. Photos will be put on the site the next day.
Hunter's Welcome Wagon
Once again Norm Vance will be traveling the highways and byways of the San Juan area visiting hunter's camps with issues of our hunting publication, extra trash bags, all of our events and information. Watch for Norm on his big blue Suzuki off-road motorcycle.
Hunter's Contest For Each Season
Dirtiest Hunter in the San Juan Contest
Free passes to The Springs Resort Hot Springs Baths for hunters found beyond dirty. Disclaimer; Please find a lake, pond or stream and take the top layer off before coming to town for the bath!
Best Camp Contest
Norm is looking for the best camp for each season. These can range from camps with big RVs to "canvas castles." Norm is looking for friendly, clean and well designed camps with a close eye on hunters doing a good job with trash.
Best Camp Cook Contest
Yum Yum! Hunters like to eat well and so does Norm!!! Offer Norm a sample of your best dish or a left over tid bit from last night's meal and your camp cook will be entered in the "Best Camp Cook Contest."
Help Keep Our Forest Clean and Green Contest
Hunters "caught" by Norm doing a good job with trash in camp, at hunter's dump sites or along the roads will be presented with a prize.