Big Game Hunting in Pagosa Springs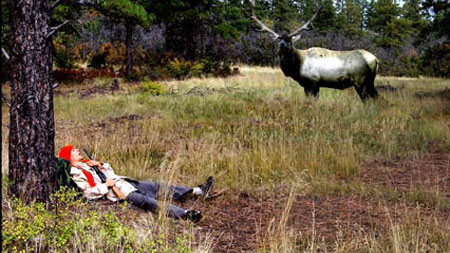 By Norm Vance
In autumn a very special mood saturates the atmosphere in the great San Juan Mountains. The heat of summer gives way to cooling north winds and nights become cool and crisp. Great stands of Aspen turn pale green and then erupt into electric orange, yellow and red. The color punctuates and gives new definition to the forest. Rivers once full and raging now trickle and bubble over and around riverbed boulders. Above the forest formations of birds fly south. Under the canopy of the trees wildlife prepares for a long winter.
Autumn causes a rushing, high spirited, excitement in the hearts of many men, a spirit surely born of ancient hereditary responsibility. Like the wildlife, it is time to put in food stores for winter. It is time to hunt.
During early October hunters begin arriving in Pagosa Country. Jeeps, trucks, and a wide assortment of motorized campers and renovated school busses trudge down the highways burdened by loads of camping, survival, and hunting gear.
High in the mountains, along all forest access roads, camps of every description spring to life. Huge tents with tarpaulin sheds dot the landscape. Makeshift kitchens come together, lanterns are hung in trees and men slowly become boys once again. In town restaurants and bars vibrate with excitement and tales of past hunts are told. Along the streets signs announce specials from beer to bullets. Grocery store workers are challenged to keep food on the shelves.
By the last few days before the season begins the air is thick with anticipation. The number of hunters has grown until they seem to be everywhere. Clumps of them fill sidewalks, parking lots, and all free space. The conversation topic is always the same, where is the big buck and the great bull elk. Ears are highly attuned to accounts of recent weather patterns and local citizens are questioned about where the herds are.
At night campfires blaze along access roads, trails, and across valleys. The good sound of laughter and high spirits can be heard in the distance. Beyond orange hats and vest which are mandatory for hunters the hunters are dressed in military camo or in outfits with a strong cowboy influence. It's interesting to observe the hunter. He stands there with a scruffy week old beard; his boots are dirt covered, and he likely smells of horse and Mother Nature. Chances are that a week ago he was in a three piece suit, clean, well groomed, and smelling like roses.
Hunting is a time to let go for most hunters. It's a time of great friendship with buddies acting out macho dreams of boyhood. It's a time to go into the wilderness and face life on the raw edge. It is also time to face one, to weigh life's values and to search for moments of truth. For two months each fall the mountains become what they were in years past. Gone is tourist picking flowers along trails, not yet come are skiers who placidly slide on snow. For these two months the mountains echo with high powered rifle shots reminiscent of mountain men of the deep past. In town trucks parade about with disembodied heads and antlers mounted proudly on top. Some summer tourists or winter skiers would faint at the sight.
To the person who understands, a hunt is beautiful. A hunt is rare and special moments in life to be remembered forever.