A Baby Changes Everything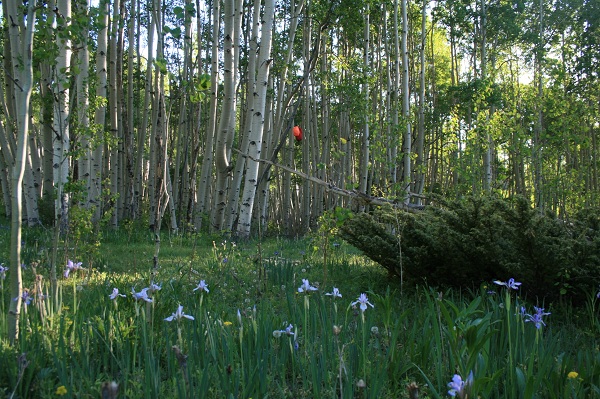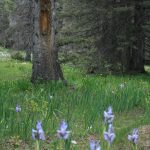 The water source was anything but appealing.  Brackish pools of stagnation, a thickening film of green and the additional of brown polyps of nasty.  I'd been looking forward to this water source.  Two weeks ago its nectar flowed well over its banks manufacturing a blanket of white marsh marigolds in the seeping lands.
Empty bottles in hand I gathered my thoughts and returned to the trail junction. Peruse the map and find the headwaters of an alternative source just over a mile north.  Swinging big Bertha onto both shoulders, I strap the hip belt and head out a litter dryer than preferred but with no worries or concerns.
Little footprints dot the trail tread and in the wetter cusps dirt stained water can be sucked in utter desperation – of which we are not.
Alternating between short meadows of bright green and the forest edge with its tumbled trunks, a downed log is deemed appropriate for rest.  Sitting Bertha again on her bottom, she stands vertical and I leave in search of the headwaters that should be just to the west.
Trampling through sticks that easily crack noisily with any misplaced step, I move gingerly and with complete awareness.  Edging around, each tree bough is gently moved and the meadow being sought is seen with its center beckoning with a reflecting sparkle.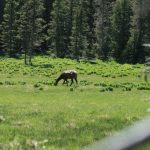 Before stepping into the open I peer first.  Quietly unzipping my camera bag I simultaneously shield myself behind a spruce with extended twig arms and capture photos of two female elk in grazing mode.  Careful not to move or draw attention to myself I'm patient.  With no warning the wind shifts and their noses pull out of the fresh green nibbles each turning to the direction where I hide.  Not even my camera moves from its eye level view.
Sensing danger, my scent sends them bounding away with the bounce of their hooves.  Around the bend and to the protection of the trees they hide.
Nature without human interference is graceful and beautiful.  Having reduced the range and grazing lands with seemingly endless uninspired growth I hope to observe and not be noticed.  Yet, at this moment I'd faltered and impacted the actions and behaviors of the two elk quietly grazing.
Having seen them speed away I entered the meadow and aimed myself for that small gurgle in the center.  Abruptly I stopped.  My presence could be life ending and with not a moment's thought or hesitation I turned and headed back to the forest edge from which I courted.  Again, quietly maneuvering my way through the forest downfall I reached the trail, located my pack, lifted it to my hips, strapped on the hip belt and moved on a little drier than 30-minutes before.
Near the center of the meadow lay a newborn.  Nose tucked to tail its eyes were wide and a small twitch of its ears acknowledged life of the most precious kind.  Because wee ones are not as agile or quick as their parents, they are taught to remain and a parent will return.
Respectful of the importance of the moment, my dryness was of little concern.  After all, the next stream is only two miles away.
Leave No Trace – Principle No. 6 – Respect Wildlife
Observe wildlife from a distance.  Do not follow or approach them.
Never feed animals.  Feeding wildlife damages their health, alters natural behaviors, and exposes them to predators and other dangers.
Protect wildlife and your food by storing rations and trash securely.
Control pets at all times, or leave them at home.
Avoid wildlife during sensitive times:  mating, nesting, raising young or winter.
About Step Outdoors, LLC
Step Outdoors wants you to go outside and we lead individually inspired one foot in front of the other adventure pursuits to get you there. We tailor a first time overnight backpack or a more challenging multi-day hiking adventure just for you. All adventures take into consideration your goals, fitness and experience level. Perfect for mothers and daughters, couples,  families, co-workers or a group of friends, we provide a 100% guarantee of fun.
Check out our blog at http://stepoutdoorscolorado.com/blog/. Or send us an email at info@stepoutdoorscolorado.com.